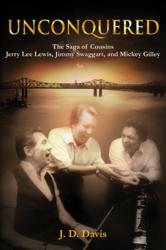 What better time than now to escape into or be inspired by a great book!
Dallas, Texas (PRWEB) July 09, 2012
Brown Books Publishing Group presents their summer reading roundup. What better time than now to escape into and be inspired by a great book, whether at the beach, at the pool, or on a lazy afternoon at home?
Country music legend Mickey Gilley talks up author J. D. Davis's new book, "Unconquered: The Saga of Jerry Lee Lewis, Jimmy Swaggart, and Mickey Gilley," an enthralling biography that depicts the fascinating story of three cousins inseparably bonded by music. Each rose to fame, their stories legendary.
Award-winning composer, sonic branding pioneer, and author Stephen Arnold provides readers with a rare trip down memory lane in his new book of "A Story of Six Strings." Arnold intersects his lifelong passion for music with breathtaking photography to tell a distinctive story through his personal collection of rare and unusual guitars—a magical journey that evokes deep emotions.
For the photography enthusiast there is "Everyday," by Leonard Volk, which offers readers a visual smorgasbord, combining select essays and images from his work between 1950 and 2012. With respect and encouragement, he hopes to inspire professionals as well as beginners to enjoy their own photographic journey of discovery.
Speaking directly to the voters of his generation, Salvator J. La Mastra IV, author of "2012 for Twentysomethings: A Young Voter's Guide to the 2012 Elections," lays out the hot issues and each party's stance on them for the upcoming election. He further encourages readers to get out and get informed before casting their ballot in order to make an educated vote.
S. J. Tagliareni brings together an astounding amount of historical research, highly attuned cultural notes, and a varied and fascinating cast of characters in his new thriller "Hitler's Priest," a novel that provides a rare window into the psychological and moral conflicts raised by Nazi Germany and the Holocaust.
"You Can Have It All, Just Not All At Once!" by best-selling author and CEO Sherri Elliott-Yeary inspires women to live with uncompromising integrity to attract authentic success. Capturing the soul of women, "You Can Have It All" is about real women and the inner and outer challenges they face each day just living life.
International businessman, energy leader, and humanitarian Mark A. Stansberry says it's time for an energy revolution in his new book "America Needs America's Energy: Creating Together the People's Energy Plan." And Paul Spiegelman, founder and CEO of the Beryl Companies, reveals his bottom-line approach to success in "Smile Guide: Employee Perspectives on Culture, Loyalty, and Profit."
To learn more visit http://www.BrownBooks.com.
Books are available online and in bookstores.
About Brown Books Publishing Group:
Brown Books Publishing Group is a Texas-based independent publisher. For more information about the publisher, please go to http://www.BrownBooks.com.