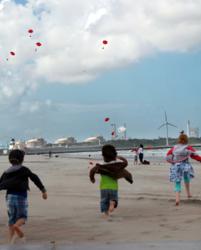 (PRWEB) July 10, 2012
On the morning of July 1, 2012, people in Hoek van Holland in the Netherlands were surprised when they saw hundreds of parachutes with cheese cubes attached to them landing on the beach. The cheese cubes seemed to be falling from the sky. The reason for this landing was the safe return to Earth of Dutch astronaut André Kuipers.
At 10:15 local time, André Kuipers put foothold in Kazakhstan. He spent over six months in space, aboard the International Space Station (ISS). The Dutch astronaut took his favorite old cheese with him on his journey through the universe.
In 1985 the brand Old Amsterdam was officially introduced in The Netherlands in Bodega Continental in Amsterdam. To this day, master cheese makers carefully oversee every procedure, constantly monitoring taste and quality, all of which determines when each batch of perfectly ripened cheese is released. Old Amsterdam has won numerous international medals, including the 'Best in Class' at the World Championship Cheese Award 2010 and the prestigious 2009 Superior Taste Award from International Taste & Quality Institute.