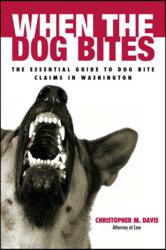 Dog bites devastate as many as 5 million Americans each year, but just about 16,000 are compensated for their injuries by the insurance companies.
Seattle, WA (PRWEB) July 20, 2012
Dog bite injuries force approximately 1,000 people in the United States to seek some form of emergency care or treatment each day, or just under 5 million each year, according to the American Veterinary Medical Association (AVMA). To raise awareness about the most dangerous breeds, Seattle attorney Chris Davis and his research team have identified the top ten dog breeds most likely to bite.
Many Americans are weary about pit bulls and rottweilers, and rightfully so considering that, according to a report from Animal People, the two breeds and close mixes have been responsible for 64 percent of all fatal dog attacks between 1982 and 2011. However, there are a number of other breeds to be equally concerned about when it comes to dog bites.
"Many people think of pit bulls as being the only dangerous dog breed," Davis says. "While it is true that pit bulls can be dangerous without proper training and handling, many other breeds are known for aggressive tendencies as well, and simply being aware of the dangers can make all the difference."
The following is a list of the top ten dog breeds in terms of human fatalities, based on statistics from the Centers for Disease Control and Prevention (CDC) website.
1. Pit Bull – Category encompasses a number of dog breeds, including the American Staffordshire Terrier, American Pit Bull Terrier and Staffordshire Bull Terrier. They were historically bred to be aggressive, powerful fighters and have extremely strong jaws.
2. Rottweiler – Together, the Rottweiler and Pit Bull category are responsible for an estimated 60 percent of all dog bite fatalities. They are an extremely intelligent breed, but poor training can lead them to become very aggressive and disobedient.
3. Siberian Husky – Because they were originally bred for work and typically did not socialize with humans, this large breed can have behavioral issues and sometimes mistaken children for prey.
4. Saint Bernard – They are one of the largest breeds in existence, and can be good family dogs with proper training. However, their large size leads them to be occasionally dominant and poor training can produce an aggressive attitude.
5. German Shepherd – Perhaps most popular for serving as police dogs, this breed is very intelligent and friendly. But their jaw strength and natural instincts make them equally dangerous in certain situations.
6. Great Dane – Dogs from this enormous breed are typically the gentle giant type, but they are also known for developing aggressive behavior with poor training. At 150 lbs with inches-long teeth, an aggressive dog presents a very dangerous scenario, especially around children.
7. Doberman Pinscher – Because their personalities can be so widely varied, training and companionship are the two key factors to a well-behaved Doberman. They are known for responding aggressively to physical corrections in training.
8. Chow Chow – Chows are extremely territorial. Any strangers entering the property or approaching family members are considered a threat by this breed, and even well-trained dogs are known to aggressively defend their territory.
9. Alaskan Malamute – Malamutes are the most wolf-like of all breeds, which should hint at its natural aggressive instincts. They are pack animals with a natural hunting instinct and extremely powerful athletic ability.
10. Akita – These large, powerful dogs were originally bred to hunt bears in Japan. This breed is now commonly used as a police dog and for other guarding purposes in Japan. Akita dogs can be very dangerous in suburban areas because of their instincts to protect against intruders.
Chris Davis, who serves as principal attorney and founder of the Davis Law Group, has authored several legal guides specifically for accident victims as part of his Washington Accident Books series. His book on devastating injuries from man's best friend, "When the Dog Bites: The Essential Guide to Dog Bite Claims in Washington State" is available for free to dog bite victims throughout the State of Washington.
Davis says that dog bites devastate nearly 5 million Americans each year, but just about 16,000 are compensated for their injuries by the insurance companies. He hopes that access to his resources will help victims better understand their rights and assist them in understanding the claims process.
"Between dealing with insurance companies and healthcare providers, the journey of filing a claim can be daunting," Davis added. "My goal is to better educate victims about their rights and the proper steps they should take when pursuing an insurance claim."
The book, which spans more than 80 pages, includes everything from basic facts about dog bites to a step-by-step guide through the legal process. "When the Dog Bites" is published by Word Association Press and is available both in hardcopy and as an eBook for $19.95 at Amazon.com. As a public service to citizens in Washington State, Mr. Davis will provide a free copy of the book to dog bite victims and their families at http://www.washingtonaccidentbooks.com.
About Chris Davis
Christopher M. Davis, founder of the Davis Law Group, has been a licensed attorney in the state of Washington since 1993. He has tried dozens of personal injury cases to verdict and has successfully handled and resolved hundreds of accident claims. He has been named a "Washington Super Lawyer" for seven years in a row for his expertise and success in litigating personal injury claims. You can learn more about the firm by visiting: http://www.DavisLawGroupSeattle.com.