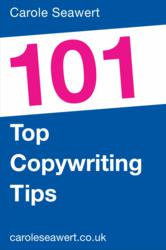 There are plenty of books on copywriting but few as succinct as this one or as competitively priced.
London, UK (PRWEB UK) 18 July 2012
The next time you're writing any marketing materials – whether it's a sales email, a web page or a brochure – here are some top copywriting tips that will come in handy:
Copywriting tip # 1: Don't launch straight into the writing. Make sure you assimilate – and understand – all the information you have collected. Then you need thinking time. This is just as important as the time you spend writing.
Copywriting tip # 2: Anticipate the questions your reader will ask and make sure your copy answers them all.
Copywriting tip # 3: Stick a picture of the person who represents your target audience on your computer and write as if you are talking only to them.
Copywriting tip # 4: Are you writing for children, for scientists, for hamster lovers? Always remember who your audience is and speak your readers' language.
Copywriting tip # 5: Avoid business buzzwords such as flexible, ground breaking, robust, user friendly, world class, market-leading solution, best of breed, scalable, mission critical. Just because others write like this, doesn't mean you should.
Copywriting tip # 6: Write as you would speak. Use everyday language.
Copywriting tip # 7: Engage your reader by writing benefits, not features. 'Our shampoo is ¼ moisturising milk' vs 'Our shampoo will leave your hair softer and bouncier'.
Copywriting tip # 8: Appeal to your readers' emotions. They're not buying life insurance, they are buying peace of mind.
Copywriting tip # 9: Use short words, short sentences and short paragraphs. But make your copy as long as it needs to be.
Copywriting tip # 10: Don't rely on the spell checker, as the first line from this poem illustrates: "I have a spelling checker, it came with my PC. It plane lee marks four my revue Miss steaks eye can knot sea."
You can find out 91 more tips with Carole Seawert's 101 Top Copywriting Tips, available now on the Amazon Kindle store. Each tip is a bite-sized nugget of knowledge for you to nibble on and easily digest. Apply these tips to your writing and you will start to produce riveting words that will grab people's attention and make them want to read on.
Praise received for '101 Copywriting Tips'
"I liked the clear, simple structure of ideas grouped together according to each stage of the process from 'preparation' through to 'editing'. What I found helpful is that the tips and advice can apply to any 'commercial' writing project. For example I am using them for sales proposals and client pitch documents!"
"101 Top Copywriting Tips is excellent - I keep it to hand as my clarity and reality checker. Carole's advice is a really good mix of the general and specific and she displays a real generosity of spirit in the guidance she offers. I'd recommend this to anyone who ever needs to get a message across with simplicity and impact."
"I love that the tips are ordered in a way that makes complete sense - from briefing, right through to editing. I am not a copywriter, but I have to write a lot of briefs and presentations for my job, and will definitely take on board some of the fabulous tips in this guide."
"There are plenty of books on copywriting but few as succinct as this one or as competitively priced. It's perfect for anyone starting in the field and a useful aide-memoire to those of us already in it."
About the Author
Carole Seawert is a London-based copywriter who writes all kinds of marketing materials, from websites and brochures to mailshots and e-newsletters. She's written for a wide range of organisations over the years, from Capgemini, Sony Ericsson and the Financial Times Group to Transport for London, the Metropolitan Police and BT.
+44 (0) 7770 740620
carole (at) seawert (dot) co (dot) uk
Visit my UK Kindle page
Visit my US Kindle page