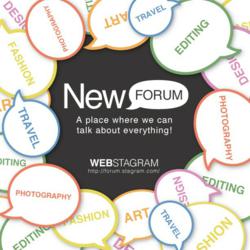 Singapore, Singapore (PRWEB) July 20, 2012
Where on the Internet do the 40 million Instagram users go to hold conversations with each other and meet photo enthusiasts who have the same interests?
Aside from enabling Instagram users to view photos on the web browser, Webstagram has also made it possible for Instagram users to interact with each other in a recently created forum (http://forum.stagram.com/).
Since Instagram opened its API to the public, many Instagram-related services can be found online. The different services cater to the various needs and interests of Instagram users today.
With the creation of the Webstagram Forum, Webstagram hopes that it serves as a one-stop place where Instagram users around the world can contribute ideas and even ask questions with the rest of the photo-sharing community.
Webstagram is the most popular Instagram website viewer, with a high traffic of almost 100 million page views in the last 30 days, making the forum an ideal place to join a wide variety of conversations.
The Webstagram Forum is not Webstagram's first attempt at increasing engagement among Instagram users, however.
The popular Instagram website viewer features Instagram users through their regular Facebook topics, Photo of the Day and Dog of the Day, making interesting conversation topics for its Facebook fans of more than 170,000 everyday (http://www.facebook.com/webstagram).
The Webstagram Forum not only becomes an extension for conversations from their Facebook page but also for other topics that any Instagram users would like to create.
Instagram users can sign in the forum with their Instagram accounts and join the diverse range of categories available such as Editing, Travel, and even Trash.
About Webstagram:
Webstagram is an Instagram website viewer developed by A-FIS PTE. LTD, who is also responsible for creating the search and direct messaging features for Instagram namely Search.Stagram and DM.stagram. A-FIS PTE. LTD. is a Singapore-based web-developing company founded in August 2011.
For more information, contact info(at)stagram(dot)com or visit http://web.stagram.com/.