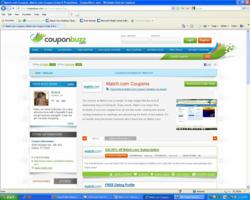 ...we are seeing that as the virtual landscape is changing, so is the online dating demographic.
Houston, TX (PRWEB) July 29, 2012
CouponBuzz.com has an entire section of their website dedicated to Match.com coupons and special offers. One of the primary reasons for the recent launch of this new section is the rapid rise of online dating and relationship sites like Match.com that represent a surprisingly large share of internet traffic. As the global population increasingly develops robust virtual lives, friendships and networks via interfaces like Facebook, Twitter, Pinterest and SecondLife, they seem to have become much more comfortable with the idea of locating a compatible dating partner through the internet. In fact, the actual demographics of online dating sites like Match.com might surprise many readers.
"Unfortunately, online dating suffers from a 'loser' stereotype acquired in its early days," explained Justin Bowen, a spokesperson for CouponBuzz.com. "In the past, online dating sites seemed to be the last-chance, half-hearted effort at 'meeting someone' utilized only by the unattractive, the unemployed, or the un-dateable – in short, the desperate. However, we are seeing that as the virtual landscape is changing, so is the online dating demographic."
Far from being the stereotypical domain of aging, un-hip singles, a full 25% of Match.com subscribers are under age 30. They are young, vibrant individuals who often utilize online dating as way to combat the ever-present problem of where to meet compatible singles when busy with work and school. That's correct - the individuals on Match.com are both smart and educated, with 74% having some college or a college degree. 29% of them list their favorite thing about online dating as not having to go out to bars and clubs anymore to have a chance at meeting someone.
Other interesting statistics provided by Match.com about their subscriber base include the fact that 67.5% are non-smokers and 46% do not have children. Most surprising could well be that the 50+ demographic, currently at 26.5%, is the fastest growing age group within their subscriber base. If one is the type to trust numbers, the surprising statistics of online dating can be very convincing. And if one would rather see it to believe it, individuals can find here on CouponBuzz.com a special Match.com coupon for a free 3-day trial. This represents a perfect opportunity to allow individuals a chance to browse through the database profiles themselves to get a feel for the website.
The basic takeaway? Online dating has become a vital resource in meeting like-minded friends and potential partners for individuals who are employed, successful, and attractive. 42% of Match.com subscribers state that their favorite thing about online dating is that it gives them the opportunity to meet individuals they would not otherwise meet. Single and interested now? Check out all the great Match.com coupons and special offers available now in the special Match.com section at CouponBuzz.com, located here http://couponbuzz.com/match.com-coupons.html.