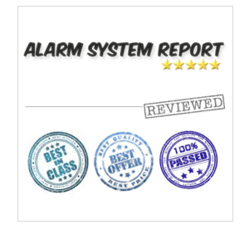 Lots of consumers want to find the best alarm system companies in their state, which was previously hard to find online.
Reston, Virginia (PRWEB) August 31, 2012
AlarmSystemReport.com has just finished its extensive home security alarm company rankings by state. This review site has gone beyond the usual nation-wide review and has reviewed each alarm company on a state-by-state basis.
Most review websites can give consumers a good overview of how well a company is doing overall. Unfortunately, these review sites might use a review of a company that is done in Pennsylvania to rate how well a company is doing in California. The company's Pennsylvania customer support staff might be light years better than the same company's staff in California and vice versa. The owners of AlarmSystemReport.com know this and have taken this into account.
Consumers can expect to find state-by-state alarm system reviews at AlarmSystemReport.com. These reviews were done by industry experts who reviewed each company in each state they operate in. The experts rated their customer service experience as well as the availability of specific home security technologies by state.
For example, AlarmSystemReport.com's expert home security company auditors looked for the best cellular alarm system in Maine. When they were done with this, they went onto New Hampshire, Vermont, and so on until they reviewed the cellular alarm systems in all fifty states.
Readers will find that the SafeMart alarm system reviews in Delaware may differ from the SafeMart alarm system reviews in Kentucky. The experts didn't just take their own experiences into account either. Social sites like Yelp and Angie's List were used to enhance the state-by-state reviews. These social rankings reflect the viewpoints of the average consumer and help give AlarmSystemReport.com readers a clearer picture of how well each top home security company is doing in their specific state.
The reviews have all been placed into an easy-to-read format that readers can easily access by clicking on their specific state. This makes finding a home security system easier on the consumer and saves them a tremendous amount of time.
Consumers won't just save time by visiting AlarmSystemReport.com either. Visitors who visit AlarmSystemReport.com can expect to save up to 35% on the top alarm systems. This can easily be done by clicking on the "Compare Quotes Instantly" button located at the top right of each page. The reader just needs to quickly fill out a two page form and wait for the top home security companies in their area to call them with new alarm system quotes.
To find reviews on the top home alarm system companies in your state, please visit AlarmSystemReport.com.