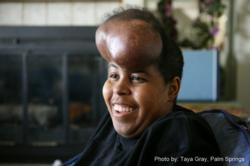 I feel like its eating me alive and there is nothing I can do.
Desert Hot Springs, CA (PRWEB) August 03, 2012
Despite being told by her health care provider that nothing more can be done for her, Danita Tate of Desert Hot Springs is not content to lie on her couch waiting to die. Tate's family recently shared her story through television station KESQ. Motivated by that story, Media Demographics is now launching a media and social networking campaign to seek professional help for Tate.
Tate suffers from leiomyosarcoma (LMS). This is a form of rare and aggressive cancer called a sarcoma. Sarcoma is cancer of the connective tissues such as bone, cartilage, muscle or blood vessels while LMS specifically develops as a cancer of the smooth muscle tissue. According to the National Leiomyosarcoma Foundation, LMS affects four in every one million people.
Tate has been battling LMS for more than two-and-half years. She first began experiencing health issues during her pregnancy with son D'Maurice, now three.
"While I was pregnant, the doctors said I had fibroids," said Tate. "I was advised the fibroids were benign and that they would go away after my pregnancy."
It turns out, however, this advice – based only on a best guess — was wrong.
According to Tate, her health care professionals assured her that the fibroids, which they reportedly estimated to be benign, would go away after the pregnancy. Tate realized this would not be the case about four months after her son was born. At that time, she started to bleed profusely. However, Tate was advised that she was not a good candidate for the emergency surgery to deal with the fibroids. Finally, the extreme blood loss Tate suffered caused her to pass out, and that situation finally led to emergency surgery. It was only then that doctors discovered Tate had leiomyosarcoma. Tate estimates that the heavy bleeding she experienced was due to the cancer's eating through the fibroids.
Initially, although it had already been underestimated by her primary care physician, Tate's leiomyosarcoma was diagnosed as stage one. She underwent a hysterectomy and then a course of chemo. At the end of this treatment, Tate says her doctor pronounced her as "cured." However, just a scant three months later the LMS came back worse than ever.
For more than nine months now, Tate has been dealing with a tumor on her forehead as a result of the LMS spreading aggressively. This tumor is painful and grows nearly visibly every single day.
"I'm embarrassed to even look in the mirror," says Tate. "It's taken over. I feel like it's eating me alive here and there's nothing I can do," she added.
Unable to work, Tate and D'Maurice are living temporarily with relatives. Tate sleeps on a couch, and their belongings fill only a few small bags.
Tate's case came to the attention of Lynn Elliott at Media Demographics thanks to recent news story about it on television station KESQ in Palm Springs.
"I am shocked and sad that Danita is experiencing this situation with little professional assistance," said Elliott.
Tate's insurance coverage from a well-known provider is known more for its focus on preventative type care. When Tate asked to be referred to a specialist for the tumor on her head, she was denied. Unfortunately, this type of high-level care is not something that she is able to pursue on her own due to limited finances. Because of her condition, Tate has been unable to obtain life insurance.
Therefore, Elliot is now working to find ways to assist Tate. Others who have taken an interest in Tate's case are also shocked by the lack of concern shown by her health care team. Tate had indicated that, with no guidance from her physician and with only a small family support network, she has been unable to research other options. She simply had no idea where to start.
"I'm just looking for someone who might be able to provide some advice," says Tate. "I have a lot of faith and know I need to hang on for D'Maurice."
Elliott is assisting Tate with necessary steps as simple as paperwork. Although Tate's case is dire, Elliott is determined to provide as much assistance as possible.
"At best, I hope we can find some treatment options for Danita and at worst, help her with the steps, paperwork, legal aspects and funding to make sure that D'Maurice has a good future," said Elliott.
Presently, committed volunteers hope to find a doctor that can remove or drain the large tumorous growth in Tate's forehead. Elliott recently established a fan page "Save Danita Tate" on the social networking site Facebook to help spread the word and provide a single site for information sharing.
Anyone who can assist Tate or offer treatment suggestions is encouraged to visit this page and share his or her knowledge.
Also, there is a donation account established by Tate's family at Indiegogo.com. Interested donors may visit http://www.indiegogo.com/"