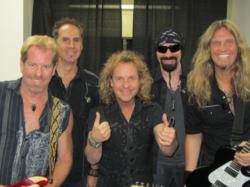 (PRWEB) August 10, 2012
The Army Field Band kicked off Sturgis Bike Week at the Broken Spoke Saloon with classic rock and roll. "When our tour bus entered the venue Eric Levy, keyboard player from Night Ranger who has performed and/or recorded with notable musicians from a wide range of genres stood and watched the performance of Sergeant Major Kirk Kadish (on keyboards for the opening act US Army Field Band)," says Richard Victor Mahee.
Lead vocalists Sergeant First Class April Boucher and Staff Sergeant Randy Wight heated up the crowd for Night Ranger by performing a suite of well-known classic rock songs. The US Army Field Band was accompanied by, Guitarist Sergeant First Class Thomas Lindsey, Bassist Sergeant First Class Peter Krasulski and on drums Staff Sergeant Glenn Robertson.
"What an incredible show," says Taylor Lober, fan of Night Ranger, who had never been to a Night Ranger concert before. Night Ranger songs have been recently featured in television shows to block buster films. "Rock Star Kitchen" starring Lisa Bouchelle with Jack Blades and Joel Hoekstra of Night Ranger. "Sister Christian" was recently featured on the block buster film and Broadway play "Rock of Ages". "Rock Of Ages" was nominated for three teen choice awards starring Julianne Hough and Diego Boneta.
Night Ranger formed in the mid 80's but has kept their act relevant by the musicians in the band working on projects from feature films, television to Broadway. The lead singer of Night Ranger Jack Blades, has co-written songs with artists such as Cher to Ozzy Osbourne. In 2006 Jack was asked to act and sing in a starring role for the rock musical "Rock Of Ages" during their Las Vegas run. Joel Hoekstra did a cameo in the film "Rock Of Ages" and has been in the Broadway play.
In 1982 Brad Gilis, who was called on when Ozzy Osborne asked him to step in and fill Randy Rhodes shoes. Brad accepted and later recorded the Live 1982 platinum-selling album Speak Of The Devil with Ozzy after touring with the band. His music is featured in popular video games such as Electronic Arts' Tiger Woods PGA Golf Tour. In addition to playing in Night Ranger, Joel Hoekstra has performed as a "sit in" guest with some of the biggest names in the jam scene, like Umphrey's McGee, String Cheese Incident, Leftover Salmon, Steve Kimock and Karl Denson's Tiny Universe. Eric Levy's song "Blueberry Cave" was used often as bumper music for NPR's "The World", and the Garaj Mahal album of the same name won the 2003 Independent Music Award for Jam Album of the Year. The crowd loved the show. Night Ranger put on a strong performance.