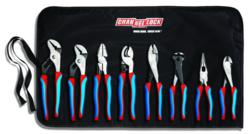 Elma, New York (PRWEB) August 12, 2012
Channellock is an American tool company located in Meadville, PA that manufactures a wide selection of pliers that sport the signature Channellock CODE BLUE grip on the handles. What puts Channellock above the rest in the market of pliers is that they're 100% US made, unlike most big name companies in the industry. The Made In America Store has noticed Channellock's focus on detail and the importance of being American made, making the tool company a perfect candidate for the all US-made store.
This year, Channellock is taking the American made commitment one step further by re-launching their CODE BLUE plier line, only this time they will be 100% American made. These pliers are made for both professionals and "Do-It-Yourselfers" alike but Channellock has upgraded their signature grips to add more comfort, durability, and best of all, 100% American manufactured.
Prior to the re-launch, Channellock used a manufacture overseas to create the Code Blue grips. With constant searching and a determination to find a cost-effective manufacturer to keep the Channellock Company 'US made', they finally found Evolution Molding right in their hometown of Meadville, Pennsylvania.
Consumers can check out the new CBR-8 Plier Gift Set from ChannelLock by clicking here! The new "Code Blue" grips add more durability, comfort and are now 100% US made!
Evolution Molding Solutions came up with the cost effective solution for bringing the Code Blue grip manufacturing back to the United States. Using their composite TPE core and over-mold provide the comfort and durability Channellock is looking for.
The Made In America Store and Channellock are coming together to bring consumers a promotion to celebrate bringing some of the best tools in the industry, back to American manufacturing. Consumers can win the CBR-8 Gift Set, a $250 gift set with 8 different pliers, by visiting the Made In America Store website and joining their mailing list.
Interested in entering to win a $200+ Plier set from Channellock that is 100% American manufactured? Click here to join the Made In America Store's mailing list!
The contest to win the CBR-8 Pliers Gift Set will start August 19th and run until August 26th. One entry per winner and to enter, individuals must apply for the mailing list! People who want to participate but are already part of the mailing list can re-enter their information.
The Made In America Store, which is located at 900 Maple Road in Elma, New York, is committed to selling 100% American manufactured products. You can visit http://www.MadeInAmericaStore.com for more information or shop our catalog of over 3,500 products from over 300 vendors that are devoted to producing USA made products. All US military personnel, both active duty and veterans, receive a discount every day. Consumers can also keep up to date news articles, events, photos and contests with Facebook, Twitter, Google+, Pinterest and FourSquare!