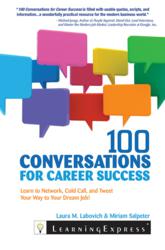 No job seeker should be without this book!
Bethesda, MD (PRWEB) September 06, 2012
Nationally-renowned job search expert Laura M. Labovich of The Career Strategy Group, and respected career expert and social media authority Miriam Salpeter of Keppie Careers, are excited to announce that 100 Conversations for Career Success: Learn to Network, Cold Call, and Tweet Your Way to Your Dream Job, is now available in bookstores and online. The long awaited job search communication book is for smart, savvy job seekers who know they need to mine the hidden job market and go "off-road" with their networking contacts, but are stuck when it comes to 'what to say.' In essence, this book is a job seeker's communication lifeline.
"Over the past decade in private practice, Miriam and I have met many confident professionals who cringe at the idea of making a cold call or reaching out to someone they don't know. In fact, one job seeker actually said 'I wish I had some sort of script to use.' As job search experts, we've seen first-hand how valuable situation-specific examples and scripts can be during those awkward networking moments when the right phrase eludes you," said Labovich.
Enter 100 Conversations for Career Success. This handy resource helps address the question on every job seeker's mind, "but when I reach out, what do I say?" and showcases more than 100 sample job search scripts, tips, and templates to arm job seekers with a framework to take the guesswork out of networking communication, in person, on the phone, and via email and online, during a job search. Having examples to use at various stages of a job search builds the confidence necessary to communicate effectively and productively. The result? Better networking contacts, improved relationships, and more job offers.
This book is getting early rave reviews and is being endorsed as a "fantastic formula for the job search" for offering "the definitive answer to the #1 reason job seekers struggle in their job search – they lack a formula (or script) for what to say, when to say it, and how to say it to build their network, get the interview, or land the job. No job seeker should be without it," said Laura DeCarlo, President of the global career association, Career Directors International.
SPECIAL OFFER: Those who purchase a book this weekend, September 7th - 9th, will have access to an exclusive author Q & A group call, with proof of purchase. Click here for details on how to redeem this special offer.
The book can be purchased anywhere books are sold and online at amazon.com.
ABOUT: Laura M. Labovich, MLRHR, is award-winning resume writer, Guild Certified Five O'Clock Club Career Coach, and founder of The Career Strategy Group (http://www.aspire-empower.com) a full-service career consulting firm that arms high-achieving professionals with empowering job search solutions enabling them to attract more job offers, at higher rates of pay, in a shorter period of time. The Career Strategy Group offers job search strategy coaching, résumé and career marketing document development (bios, Linkedin profiles, executive summaries) social media training, and career development workshops for individuals and companies, in the Washington DC area, and throughout the U.S.
AVAILABILITY: Greater Washington DC area; nationwide by arrangement. Available for interviews in print, television and radio.