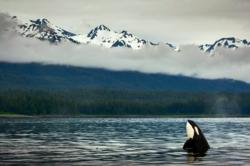 Juneau, Alaska (PRWEB) September 03, 2012
Whale watch season is almost over in Alaska once again. There are still nearly 2 months of whale watching left, but in about 4 weeks very few people are going to want to go as the weather really begins to pick up - meaning the mountains are already building snow on their tips.
On an average whale watch tour one can see a minimum of 3 glaciers: Mendenall, Herbert, and Eagle Glacier. The Juneau Icefield that keeps these glaciers fed with more than 1,500 square miles of ice has been receiving fresh snowfall sometimes daily now.
Captain of Whale Watch Alaska, Cory Mann stated, "The weather continues to remain nice although this year on average has been colder than most. People should bring gloves, hats, and waterproof clothing that is light for whale watching....In the beginning of the summer the whales are dispersed as if they are in shock and I wonder if they are cold and trying to find their friends after the long swim from Hawaii?
We have had a great whale watch season, here in Juneau, Alaska and continue to see transient killerwhales, resident killerwhales, hump back whales, and more hump back whales with calves than ever before. It has been a real treat."
The cruise ships will stop coming to Juneau in a few weeks and the hump back whales will soon follow. http://whalewatchalaska.com/