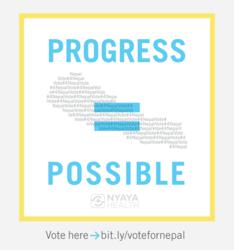 Help Nepal with a single vote. - Nyaya Health executive director Mark Arnoldy
BOSTON (PRWEB) September 07, 2012
Nyaya Health, a U.S. nonprofit, with its hub in the Far Western Region at Bayalpata is in the midst of a tight competition for a share of $5 million in grants, which will provide free health care for thousands in rural Nepal. Now through Sept. 19 Nyaya Health will compete in the annual Chase Community Giving program, an online contest where supporters' votes could translate into expanded health care for poor Nepalis in the rural Far Western Region. With one simple click, Nepalis and supporters are able to vote for Nyaya Health here and to Tweet for Nyaya Health, with the hashtag #VoteForNepal.
Nyaya Health has enlisted many prominent Nepalis for support:

Malvika Subba, media personality, actress, social activist and former Miss Nepal
Anil Shah, CEO of Mega Bank Nepal Ltd.
Ashutosh Tiwari, country representative of WaterAid Nepal
Kul Chandra Gautam, public policy expert and peace advocate
Nirvana Chaudhary, entrepreneur
Pralhad K.C., president of the Non-Resident Nepali National Coordination Council
Pushpa Basnet, founder/president of Early Childhood Development Center and Butterfly Home
Ujwal Thapa, activist and IT entrepreneur
Nyaya Health provides care for Nepalis with few other options for care. In 2009, Nyaya Health partnered with the Nepali Ministry of Health to re-open the abandoned Bayalpata Hospital. More than 101,000 people in the region have already accessed free health care thanks to the group, which continues to expand. In 2011, Bayalpata Hospital treated more than 30,000 patients and broke ground on a surgical center and the region's first microbiology laboratory. The hospital continued to operate through the bandh this summer. Community health workers cared for more than 11,300 patients in the region last year.
"Winning this contest means we can expand our work to 5 clinics to provide more free health care for rural Nepalis," said Mark Arnoldy, executive director of Nyaya Health. "Help Nepal with a single vote."
Nyaya Health is committed to building a long-term health care system in rural Nepal. In addition to partnering with the Nepali government, the organization has hired 98 percent of its local staff from Nepal. More than 80 percent of team members come from the Far-Western Region. Through Nyaya Health's work, 73 Community Health Workers travel the area, educating members of the community on a variety of health issues, like how proper sanitation can prevent disease, and the services Nyaya Health can provide.
Nyaya Health is a charitable organization that believes everyone has the right to quality health care. In addition to providing day-to-day care, Nyaya Health partners with government agencies to promote the creation of just systems and "infrastructure for equity," which creates the possibility for the right to health and sustainable change.
The nonprofit is one of the world's most respected and impactful health care charities. Leading nonprofit evaluator GiveWell called Nyaya Health a "standout organization" because of its "unusual standards of transparency." Only 10 of the more than 800 organizations GiveWell examined received that distinction, and GiveWell named Nyaya Health a recommended charity for the 2011 holiday season.
"Nyaya Health needs your help to continue its mission of realizing health in the Far Western Region," Arnoldy said.
For interviews with Executive Director Mark Arnoldy or for additional background on Nyaya Health or the contest, contact Erin White, erin(at)caminopr(dot)com, 212.255.2575.
###
Nyaya Health brings life-saving, quality health care to rural Nepalis by establishing hospitals and clinics and training community health care workers. The nonprofit, which re-opened the previously abandoned Bayalpata Hospital, has brought free health care to more than 101,000 people in Nepal's Far-West Region.