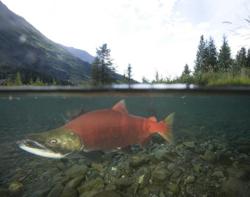 wild salmon will continue to maintain its place of ecological, economic and social importance in Southeast Alaska
Juneau, Alaska (PRWEB) September 14, 2012
The USDA Forest Service Alaska Region, The Nature Conservancy, and the National Fish and Wildlife Foundation formed a $1 million partnership to enhance wild salmon habitat by restoring four Tongass National Forest watersheds in 2013.
This partnership will accelerate restoration of priority salmon-bearing streams in Southeast Alaska including: Twelvemile Creek, Staney Creek, Luck Lake/Eagle Creek on Prince of Wales Island; and Saginaw Creek on Kuiu Island. It will also provide cooperative opportunities for a wide variety of partners and will provide jobs to support rural community economies.
A combination of factors determines the biological productivity of each watershed. This productivity affects the capacity to grow large trees and support fish and wildlife. Most watersheds on the Tongass National Forest are in near-natural conditions, but some critical floodplain areas in important fish-producing watersheds are not. The Forest Service, in collaboration with Alaska Native tribes, conservation groups, and other resource users, prioritized the restoration of watersheds with the greatest potential for rapid recovery.
The Tongass National Forest is America's largest national forest and produces more wild salmon than all other national forests combined. The more than 17,000 miles of salmon streams on the Forest produce enough salmon to fuel the economic engine of Southeast Alaska.
"The National Fish and Wildlife Foundation, The Nature Conservancy and the Forest Service are making this effort so that Tongass wild salmon will continue to maintain its place of ecological, economic and social importance in Southeast Alaska," said Forest Service Alaska Region Forester Beth Pendleton.
The National Fish and Wildlife Foundation was established by Congress in 1984. It sustains, restores and enhances the nation's fish, wildlife, plants and habitats. Working with federal, corporate and individual partners, the foundation has funded more than 4,000 organizations and committed more than $2 billion to conservation projects. Learn more at http://www.nfwf.org.