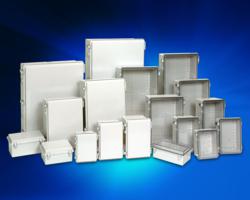 "Offering a rugged design and enhanced environmental performance, polycarbonate enclosures provide our customers a cost-efficient alternative solution for corrosion resistant applications."
Minneapolis, MN (PRWEB) September 20, 2012
Pentair Technical Products announces the Hoffman® brand rugged Type 4X hinged-cover polycarbonate enclosures with stainless steel latches. Featuring durable, light gray polycarbonate, integrated molded hinges for secure cover attachment and stainless steel hinge pins for chemical and corrosion resistance, these non-metallic enclosures provide reliable protection for sensitive electrical and electronic components.
Designed to withstand harsh environments, Hoffman's polycarbonate enclosures are corrosion resistant and feature quick-release stainless steel latches. A drip shield, located at the top and bottom of the enclosure body, effectively protects the gasket area from dust and water ingress when installed in either left or right hand hinge applications. For enhanced protection, enclosures are equipped with a molded-in padlocking feature, which provides wire tie and lockout capabilities while allowing operators to easily open the well-sealed cover.
"Offering a rugged design and enhanced environmental performance, polycarbonate enclosures provide our customers a cost-efficient alternative solution for corrosion resistant applications," said Garrett Potvin, Product Manager, Pentair Technical Products. "Their inherent durability minimizes maintenance and replacement costs, resulting in a lower overall total cost of ownership while maximizing electronic protection capabilities."
Polycarbonate enclosures offer superior protection through the following features:
-Durable, lightweight polycarbonate construction is chemical and corrosion resistant
-Integrated molded hinges
-Foam-in-place gasket provides protection against dust and water
-Easy modification with standard hand tools
-Eco-friendly polycarbonate can be recycled and reused
-Stainless steel wall-mounting provisions provided
To comply with industry standards, polycarbonate enclosures are UL 508A Listed for industrial control enclosures use and IP66/UL Type 4X rated for use in corrosive environments and demanding applications, including water and wastewater, industrial automation and wireless communications.
To learn more about polycarbonate enclosures, visit: http://www.hoffmanonline.com
About Pentair Technical Products
Pentair Technical Products, a Pentair global business unit, is the leading provider of worldwide product and service solutions for enclosing, protecting and cooling electrical and electronic systems. Its industry-leading brands—Hoffman®, Schroff®, McLean®—provide a broad variety of standard, modified and engineered solutions to the commercial, communications, energy, general electronics, industrial, infrastructure, medical, and security and defense markets.
For more information, visit http://www.hoffmanonline.com or contact Pentair Technical Products at 2100 Hoffman Way, Minneapolis, MN 55303.
About Pentair, Inc.
Pentair (http://www.pentair.com) is a global diversified industrial company headquartered in Minneapolis, Minnesota. Its Water Group is a global leader in providing innovative products and systems used worldwide in the movement, treatment, storage and enjoyment of water. Pentair's Technical Products Group is a leader in the global enclosures and thermal management markets, designing and manufacturing thermal management products and standard, modified, and custom enclosures that protect sensitive electronics and the people that use them. With 2010 revenues of $3.0 billion, Pentair employs over 15,000 people worldwide.
Media Contact: Kelley Schreiber (Next Communications). Phone: 952-934-8220. Email: kelleys(at)nextcom(dot)com