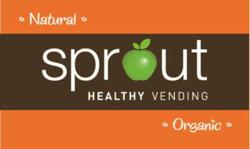 Irvine, CA (PRWEB) September 21, 2012
Sprout Healthy Vending is a national leader in the booming vending industry bringing all-natural and organic snack options to schools, offices, and communities all over the country.
Brian is a veteran of the wars in Afghanistan and Iraq as a combat pilot, and has an undergraduate degree from the United States Air Force Academy. He still serves as a LtCol in the Air Force as a member of the Iowa Air National Guard. Brian was also a four-year letter-winner playing baseball at the Academy.
Jennifer is a local psychologist that graduated from Buena Vista University in Iowa for her undergraduate degree, and she received her PhD from the University of North Dakota.
"Jen and I love to run together. We have run the Lincoln Half Marathon, Corporate Cup, Omaha 10K, among others. We are an active family and when we stumbled upon this opportunity we knew it was perfect for us," Oswalt shares.
"We were motivated to become operators because we know there is a real need for healthy vending in our community, schools, and work places. We strongly feel that healthy living is just getting started here in Omaha," Oswalt says. "Jen and I are confident Omaha will accept healthy vending with open arms."
Oswalt continues, "My wife and I couldn't be more excited to bring healthy vending to our town. Omaha is comprised of great, ambitious people and we can't wait to provide a way for the public to have alternate, healthy vending options. We all lead busy lives, and although home cooked meals are the best choice for a healthy lifestyle, sometimes it is necessary to grab something quick. It will be nice knowing that Omaha will have healthy products to choose from when vending is their choice to eat."
When asked, The Oswalt's like to describe Sprout Healthy Vending as alternative vending options that are good for you and promote a healthy lifestyle. They want to maintain their own healthy lifestyle and what better way to do so then to run a healthy vending business. With three young, growing Husker fans in the house, there will be no shortage of taste testers.
"Our ultimate goal is to have Sprout Healthy Vending machines everywhere in Omaha where there is a need for vending," Oswalt states.
The Oswalt's are thrilled with their choice to partner with Sprout Healthy Vending. "The Sprout Healthy Vending staff has been one of the most professional staffs we have ever worked with. It is apparent that everyone in the staff has a vested interest in our success of bringing healthy vending to Omaha," Oswalt shares.
Co-Founder Chris Wyland echoes the sentiment, "With nearly 80 operators today, and being one of the most sought after business opportunities out there, Sprout keeps growing rapidly by the day and we are acquiring fantastic locations all over the country. We are thrilled to announce the addition of the Oswalt Family to our ever-expanding Sprout Family. They are motivated and a perfect representative to have out in Omaha."
About Sprout Healthy Vending
Sprout Healthy Vending provides state-of-the-art vending technology, thousands of healthy and organic products and turnkey customer solutions for regional operators. Currently, Sprout Healthy Vending has over 80 operators in 40 markets in the U.S. with 1,000 individual locations projected by the end of 2012. To learn more about the company, locations and products please visit http://www.sprouthealthyvending.com or call (800) 450-7648.