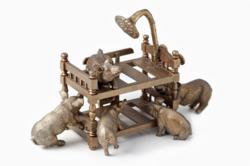 New York, NY (PRWEB) September 19, 2012
Ushering in the vibrant new season of the arts in Harlem, ArtinFlux Harlem inaugurates a two person exhibition with Brazilian artist Carlos Madeiros and Harlemite Leah Poller in a provocative, three dimensional presentation of Poller's 101 Bed Collection (http://www.leahpoller.com) in juxtaposition with DeMedeiros' confessionals.
Leanne Stella, Director of ArtinFLux Harlem says, "This is our 5th Pop-up exhibition and the one to probably cause the most commotion. Our traditional, politically liberal and conservative audience may be caught off guard, but art should make us pause and ask deeper questions. Bedtime Confessions does just that!"
Both Poller, a Paris trained classical artist, and DeMedeiros, a self taught Brazilian ex-clergy have chosen the found object as a point of departure to explore the complex nature of the deeper self. Poller's works are visual metaphors for the bed in all its literary and imaginary iterations, ranging from the lyrical to satirical, the ironic to iconic, the lovely to licentious, and the humorous to dark. Carlos DeMedeiros' colorful and complex confessionals tap into religious memories from personal experience, and define faith in new terms.
States Demedeiros, "The religious years were especially significant; before I was inside the box, living as a believer and a monk, and when I broke free and dared to leave, the boxes became one way to tell the story of my experience there."
Bedtime Confessions functions like a pinball game, constantly in motion, banging and clanging against every possible combination of our deepest and darkest, our dreamiest and most wishful thoughts, racking up points in every category of human emotion. Poller offers false respite with her installation piece "A Bed of Cactus", an invitation to rest in a life-size bed created with 160 live cacti, supercharged with guilty and innocent nocturnal evidence of the "night before".
"My goal is to stretch the imagination as far as possible: The most inviting bed vs the greatest consequences. I offer the stimulation, the audience runs with it. By gathering hand-written Dreams and Confessions from gallery viewers, the exhibition comes full circle: we are ALL implicated!" Poller confides.
The opening reception (by invitation) is Wednesday September 19 from 6-9 PM, at 1961 Adam Clayton Powell Jr. Boulevard @118th Street, NY, NY with gallery hours Wednesday-Saturday from 12:00 – 7:00 PM and Sundays from 12:00 to 5:00 pm. For information contact Leanne Stella at 646 340 3479 (http://www.artinfluxharlem.com)