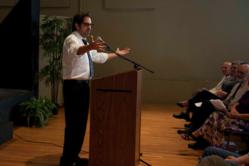 Our dream of a high school offering a rigorous Waldorf college-preparatory curriculum in the Pasadena area is now being realized.
Pasadena, CA (PRWEB) September 21, 2012
The Pasadena Waldorf School celebrated the long-awaited opening of its new high school on August 29, 2012 with an inspirational Opening Ceremony held at the beautiful new campus at 1539 East Howard Street in Pasadena.
The opening ceremony was a celebration of the years of hard work, the countless gifts of time and funds, the passion, enthusiasm, and knowledge that led to the much-anticipated launch of the high school. Our dream of a high school offering a rigorous Waldorf college-preparatory curriculum in the Pasadena area is now being realized. The high school has launched with a fully formed program for our 17 pioneering students, and ambitious plans for growth.
Joining the students were faculty and staff from both the lower school and high school. Attendees included high school advisor Betty Staley, high school administrator Jennifer Tse, one of The Pasadena Waldorf School's founders, Paul Livadary, many of the donors who made the opening a reality, students, parents, and many alumni. Many of the 18 full and part time faculty and staff of the new high school were in attendance. The ceremony closed with the incoming freshmen walking to their first class with humanities teacher and class advisor, Corby Gallegos.
Said Mr. Gallegos of the event, "The ceremony was a beautifully important introduction of the class to the community and of the community to the class. For the first time, all the efforts of the school were perceived as a reality. For the class, they got a picture of all the love, hard work and dedication that others have put into creating this space for them. It was eye-opening — it felt like a birth for them."
The joyous occasion took place at the Franson Hall Theater on the campus of William Carey International University in Pasadena where the high school has its new home. It celebrated the many individuals that helped realize the dream of the school's founders of a complete Waldorf curriculum from early childhood through high school. It would not have been possible without the tireless work of parents, high school committee members, leadership donors, development and capital campaign volunteers, and the many supporters from the school and community.
Pasadena Waldorf School, founded in 1979, is one of over 1,000 Waldorf schools worldwide with over 90 years of experience offering an inspired education. Pasadena Waldorf High School, which opened this year, joins 40 other Waldorf high schools now operating in North America. Waldorf education is the fastest growing independent school movement in the world.