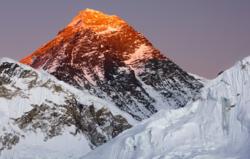 A once-in-a- lifetime, hands-on wilderness medicine training experience.
Salt Lake City, UT (PRWEB) September 24, 2012
Due to the great response and participation in last year's "Everest Experience," the Wilderness Medical Society announced another world-class program March 24 through April 13, 2013. Described as an "adventure, hands-on" wilderness medicine training experience, the program will offer the opportunity for accredited continuing medical education while on an Everest Base Camp (EBC) trek in the Khumbu Valley of Nepal.
"Together, the Wilderness Mecical Society and Peak Promotion are able to offer an exceptionally well-priced, educational, all encompassing Khumbu Valley-Everest experience," says Dr. Loren Greenway, Wilderness Medical Society CEO.
Continuing medical education credit will be available from Kathmandu to Everest Base Camp. The Society's Everest adventure includes two nights at EBC (not normally offered for Everest treks) in cooperation with Everest ER. Registration is available on the Society's website.
The historic Yak and Yeti Hotel in Kathmandu will be the host hotel. Before and after the trek, attendees will be able to experience colorful Kathmandu--once thought to be the fabled and inaccessible Shangri-La--now a hub for independent travelers as well as a growing vacation spot catering to all budgets. Trekkers will experience majestic and inspiring vistas of the Himalyan mountains, mountainside tea houses and villages, and Sherpa culture.
According to Dr. Greenway, this adventure CME course is designed to educate participants in the pathophysiology, recognition and treatment of a variety of medical problems commonly encountered in remote or extreme environments that are far from hospital or definitive care. And upon completion the course, participants will be able to establish a set of treatment priorities for care of the sick or injured in wilderness settings; demonstrate basic aspects of improvised care, rescue and evacuation; learn basic field skills enabling a physician to be more capable in a setting remote from definitive care.
Faculty will be lead by experienced Everest trekker and Past President of WMS, Eric Johnson, MD, FAWM. Dr. Johnson is a physician at the Teton Valley Hospital in Driggs, Idaho, and the Medical Director for Teton County Fire and EMS. Peak Promotion has been leading treks in the Nepal and Tibet since 1992. They are recognized by their government as the leading trekking and mountaineering agency in Nepal.
**The Wilderness Medical Society (WMS), a 501(c)3 organization, is the world's leading organization devoted to wilderness medical challenges. Wilderness medicine topics include expedition and disaster medicine, dive medicine, search and rescue, altitude illness, cold- and heat-related illness, wilderness trauma, submersion injuries, envenomation, and wild animal attacks. Founded in 1983, the WMS has long-standing commitment to education and research, sponsoring accredited continuing medical education conferences; publishing a peer-reviewed medical journal, an online quarterly magazine, an educational lecture series, and practice guidelines for wilderness emergency care.