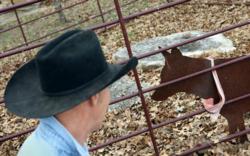 (PRWEB) September 23, 2012
With a single youtube page reaching close to 4 million views, two live web pages on Oprah.com and a worldwide fan base, one has to wonder—what more needs to happen to prove the Skidboot story is bankable enough to be on the silver screen? That's where writer Cathy Luchetti comes in.
Cathy is the highly esteemed Texas native author of eight books about the settling of the American West in the 18th and 19th centuries, from religion to cooking and cuisine to courtship rituals and child-rearing, to an invitation to the White House and awards for literary excellence, Cathy is well respected by her fans and peers.
"I am excited to push the story into another market as a proving ground and even more thrilled that we have Cathy to take us in that direction," stated Joel Carpenter, writer/producer of the Skidboot feature film project. "There is much more going on here than just a story about a dog doing tricks. People are deeply affected by the relationship owner David Hartwig had with his dog Skidboot and I am confident Cathy will be able to bring this out in the book."
Most of Cathy's previous writing projects have had a historical theme, but this will be her first time writing about man's best friend. "The idea of transformation is what drew me to the Skidboot project," said Cathy. "Life is uplifted when change occurs, particularly change for the good. I always look for stories that promote the good in life, and this is one! Many of my books have to do with history. This one, in a way, is about "making" history. A work of History- in-process. A truly notable story of our time."
In another recent history making moment Skidboot was named in the Top Ten Most Famous Texas dogs ranked with the likes of 'Old Yeller', 'Rin Tin Tin', Texas A&M's dog 'Reveille', and President George Bush's dog 'Millie'.
Growing up, Cathy had experienced her own special canine relationship with her dog Scooter. "He shared every family adventure. He traveled down rivers with us for weeks at a time. He went on oil prospecting adventures with my geologist Dad. He spent quality time barking at pump-jacks, "protecting" his family. He stamped out cigarette butts wherever he found them, unasked, untrained, a furry little do-not-smoke campaign far ahead of his time."
The bond Cathy speaks of with her dog is not uncommon. Pet owners worldwide can relate with those feelings of love, loyalty and companionship. "Pets are like guardian angels. Visible ones," adds Cathy. "They protect, guide, comfort and direct. They are a gift to any person at any socio-economic level. They are a daily prompt to bring out the good in us, lest we forget"
And Cathy may be on to something with her endeavor. Since 1974 Dog Movies At the Box Office have grossed nearly 2 billion dollars. Also interesting to note is despite the downturn in the economy, U.S. pet industry sales reached $56.67 billion in 2011, up from $54.56 billion in 2010. Although a modest 3.9% increase percentage-wise, the 2011 figure represents $2.1 billion in additional market value.
"My hopes are to reach as many people as possible, who will then spend a reflective hour, which will then turn into some action for good. To enhance life as we know it, directing our efforts to life-as-it-can- be."
Joel couldn't agree more. "Inspirational stories of the underdog achieving greatness with very little have always inspired me," says Joel. "I grew up watching inspiring movies like Rocky, The Karate Kid, Rudy and Forrest Gump. In so many ways I am that underdog. When I take my kids to the movies these days, I want them to see these same types of stories—movies like Soul Surfer, Dolphin Tale, or The Pursuit of Happiness. At the end of the day everyone loves a good story and even more people love a 'good dog story' and this just happens to be an 'amazing and true dog story' and the world deserves to know about it."
Skidboot The Amazing Dog
http://www.youtube.com/watch?v=P2BfzUIBy9A
Skidboot on Oprah.com
http://www.oprah.com/oprahshow/Amazing-Dog-Tricks-Video
http://www.oprah.com/oprahshow/Amazing-Animal-Updates/2
Skidboot Documentary Pt 1
http://www.youtube.com/watch?v=_iWSo_rnFME&feature=youtu.be
Skidboot Documentary Part 2
http://www.youtube.com/watch?v=htg_4RdWEGg&feature=relmfu
Skidboot Documentary Part 3
http://www.youtube.com/watch?v=iWj0W07kYjI&feature=relmfu
Investors contact 512.303.2159