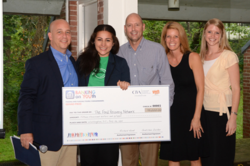 We're definitely in the big leagues now. We're honored that FRN was chosen, and excited to compete.
College Park, MD (PRWEB) September 28, 2012
Ben Simon, Founder of Food Recovery Network (FRN), has been invited to participate in the 2012 Continuity Forum held from November 12-14 in Miami, Florida. Having been selected as one of the region's 35 top social entrepreneurs, Simon will soon have an opportunity to present on his innovative nonprofit and compete for a chance to take home $100,000.
The Food Recovery Network takes on two of America's largest social issues – hunger and food waste – by recovering and donating food from college campuses that would otherwise be thrown away. The organization, which is entirely run by student volunteers, started just one year ago at the University of Maryland, College Park, and its four chapters at UMD, Brown University, Berkeley, and Pomona College donated 60,000 pounds of food in the last 12 months.
Food Recovery Network is now becoming a 501(c)(3) nonprofit and expanding to other college campuses at lightening speed. And just in time -- the organization estimates that 75% of American colleges and universities still have no food recovery program, amounting to approximately 22 million pounds of wasted food every year that could be donated.
Simon and the Food Recovery Network are not new to social entrepreneurship competitions. In April, FRN took home the $5,000 grand prize in the Kevin Bacon Do Good Challenge, held at UMD. Then, in July, FRN graced the national spotlight for winning the grand prize in the $15,000 Banking on Youth Competition, sponsored by the Consumer Banker's Association and Ashoka's Youth Venture.
"Food Recovery Network has won several major contests, but the Continuity Forum is the first where we're competing against all ages, not just fellow youth," said Simon, a 22-year-old senior at UMD. "We're definitely in the big leagues now. We're honored that FRN was chosen, and excited to compete."
These bright and determined participants were selected by the Americas Business Council (abc*) Foundation and its partner organizations, Ashoka and Innovadores de America. Three out of the 35 entrepreneurs will selected as winners of a $100,000 grant to be used towards their project. In addition, they will have access to two years of hands-on advisory, media, and marketing support.
Some of the key issues that will be addressed at the forum are climate change, poverty, education, political stability and freedom, hunger, access to quality healthcare, and economic development. The event will also feature prominent speakers, including Former Secretary-General of the United Nations, Kofi Annan.
For more information about the forum and the Food Recovery Network, visit these websites: http://www.abccontinuityforum.com/site and http://www.foodrecoverynetwork.org.