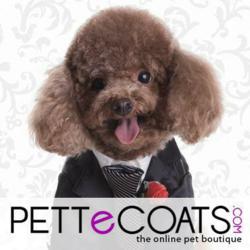 Brentwood, Essex (PRWEB) September 28, 2012
Online pet boutique, Pettecoats, has recently announced its release of pet-friendly, designer collections of clothing and accessories for animal lovers everywhere. Pettecoats made its first appearance in the market of luxury pet apparel in 2011, and it became evident to the retailer that people enjoyed expressing their pet's personality through various animal fashions. Since then, the online retailer has been making advances towards providing an expansive collection of pet products for their international clientele. Pettecoats Ltd aims to provide high quality goods at a reasonable price point and "a fun environment to do your clothes shopping for your dog, cat or whatever pet you may have".
Pettecoats' line of designer dog clothes promote a wide variety of personages and styles that owners can purchase for their four-legged friends. Priding themselves on their diversity of products, Pettecoats offers a wide variety of apparel items to fill pet wardrobes. Dog jumpers, shirts, coats, pants, dresses, jeans, suits and many other items for dogs to sport around town can be found on the site. In addition, dog outfits can be accessorized with hats, jewelry, scarves, bow ties, socks and shoes that enhance the dog's "look". Punks, gangsters, prim and proper pre-Madonnas, high-maintenance divas, rowdy cowboys and wild indians are all possibilities. Seeking to provide furry friends with fashions that rival our own, it is clear that Pettecoats strives to be an easy, "one stop", online pet shop for their clients.
Pettecoats has dedicated 2012 to expanding their product selection and reaching out to new customers all over the world. Besides dressing pets, Pettecoats offers many practical tools and accessories for the health, hygiene and entertainment of pets. Collars, harnesses and leashes for walking dogs, pet carriers, shampoos and conditioners to keep pets soft and cuddly and rope toys are also available at Pettecoats website. Recently, Pettecoats even added designer pet bedding to their list of classy pet products. Leather and tweed sofa beds and chaise lounges have evolved from standard dog beds into fashionable home decor, while still managing to provide the utmost comfort to pets everywhere. Pettecoats seeks to make the lives of their clients and their clients' pets simple, happy and fun.
Pet apparel and accessories has quickly become a hot niche in the fashion market, and the United Kingdom's Pettecoats hopes to ensure their place as one of the largest online distributors in the field. With both quality and diversity at the heart of their company's agenda, the future of Pettecoats looks bright.
For additional information on the luxurious pet apparel and accessories provided by Pettecoats, contact Pettecoats Ltd at http://www.pettecoats.com.