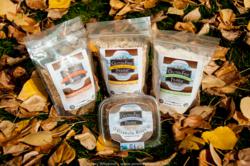 We have our lives back! And a new family business too.
Bozeman, Montana (PRWEB) September 30, 2012
It's been 7 years (and almost seventeen years after the onset of symptoms) since Deb Wheaton, co-founder of Gluten-Free Prairie, and daughter Amy received their diagnosis of Celiac Disease. The #1 genetic autoimmune disease in the world is manifested by a complete intolerance to ALL foods containing gluten (wheat, rye, barley).
"It was unbearable watching my young daughter suffering for so many years. And frustrating that the parade of doctors couldn't tell us what was wrong. We were thrilled to finally have a diagnosis. And to learn that this disease is controlled by diet, a gluten free diet, was icing on the cake."
"Icing on our gluten-free cake… that is," daughter Amy quickly chimes in.
Recognizing the same symptoms in herself, Deb was diagnosed shortly after Amy. Connecting the dots backwards, the family realized that Deb's mother succumbed at 62 to a celiac-related blood disorder without ever being properly diagnosed. There is no known cure for Celiac Disease, no pills or drug therapies. The "cure" is a gluten-free diet.
"And on a gluten-free diet Amy's and my lives dramatically changed. Our symptoms disappeared and we had our lives back!"
Mother and daughter's diagnosis marked the beginning of a truly personal crusade for Deb.
"I thought, if only we'd known sooner, how different our lives might have been. And my children might have gotten to know their grandmother, too."
"I had to get the word out! Then it was like I channeled a life-time of experience to help raise awareness, increase diagnosis, and save lives."
No stranger to the world of film and TV production, the LA native grew up on movie sets and spent her adult career working on-camera as an actress in TV Commercials.
"As the years went on, it seemed almost every time I did a food commercial I would get sick," Deb says. "Now, I can trace it all back to gluten"
The mother of 3 also spent several years managing the theatrical career of oldest son, actor Wil Wheaton (Stand by Me, Star Trek the Next Generation, Big Bang Theory), as he made his mark on the worldwide stage. Wil and younger brother Jeremy tested negative for the disease.
In an effort to raise awareness, Deb launched a blog: Not Even A Crumb (http://www.notevenacrumb.com) Then, in conjunction with the Celiac Disease Foundation (http://www.celiac.org), she spearheaded the introduction of legislation to designate May as Celiac Disease Awareness Month in California. In April 2011, SR7 unanimously passed both California State Houses. Finally, in partnership with CDF, Deb wrote, direct and co-produced the Celiac Awareness PSA "Are You The One?" which is currently airing nationwide.
But even as the gluten-free market exploded and countless choices flooded local store shelves, Deb and Amy found their quest for maintaining a healthy gluten-free diet to be surprisingly difficult.
"Sure, we had more and more gluten-free choices every day. But many of them were full of fat and sugar and lacking in essential B vitamins and fiber."
Then, a chance meeting in the heart of wheat country Montana changed everything.
"I learned about a professor at MSU who was developing a "hull-less" gluten-free oat which was being grown in designated gluten-free fields in the heart of Big Sky wheat country, Montana. Oats are a great source of the B vitamins, protein and fiber - elements often missing in a gluten-free diet. I had to know more."
A love of horses, fishing and camping was already pulling the Wheaton's toward Montana. And now there seemed to be a perfect gluten-free food there as well. Was this destiny at work?
Prior to diagnosis, oats had been a staple in the Wheaton household. But like many Celiacs or those with gluten-intolerance, it seemed Amy and Deb couldn't tolerate oats. Oats would be one of the perfect foods they would just have to give up. But still looking for what was missing in their gluten-free diets, Deb dug deep into the science of this gluten-free oat.
"I learned that oats are naturally gluten-free but often cross-contaminated in the field. These gluten-free oats could be a missing link in our gluten-free diet. When we learned we could tolerate them, I wanted to share them with the gluten-free community."
And Gluten-Free Prairie was born.
Today Deb's passion has taken the family to a whole new level. Southwest Montana is now home-base for the Wheaton Clan.
Gluten-Free Prairie currently offers several oat based products including their most popular: Granola Bites.
Partner and son Jeremy is the research baker developing recipes for the Gluten-Free Prairie website. When he's not fishing, husband Rick is the business brains behind the scenes.
"Jeremy has a gift for creating gluten-free recipes. And it seems to translate in our on-line recipe videos."
Still, Deb's primary mission remains to raise awareness about the "#1 Disease You've Never Heard Of"
"The delay in diagnosis remains at around 9 years. Early detection is key to saving lives and starts with a simple blood test."
Wheaton states that a portion of proceeds from Gluten-Free Prairie will always go directly to programs to raise awareness about Celiac Disease.
"Our business is built on the foundation of the American dream that anything is possible. We are excited to introduce Gluten-Free Prairie to the world. From the heart of our Gluten-Free prairie in Big Sky country, Montana, USA."