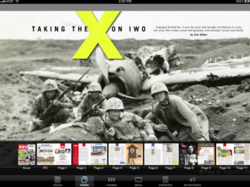 It turns out that digital magazines are very much in the spirit of World War II.
Harrisburg, PA (PRWEB) October 15, 2012
It's a real moment from history. Four battle-worn World War II marines peer warily from shallow pits dug into Iwo Jima's dark volcanic grit. Another marine is unseen; he's the one with the camera, risking an enemy bullet to take the picture.
The risk was real—the man in the photo's center would die the very next day. But the photo made it off Iwo. Now, 67 years later, it's on the screen of an iPad, in a digital issue of AMERICA IN WWII magazine, the only World War II magazine available for tablets and handhelds in the United States.
Using 21st-century digital technology to share the rich images and stories of World War II and the WWII home front is new for AMERICA IN WWII. For seven years, the magazine offered WWII enthusiasts only glossy printed issues. In December 2011, however, the magazine launched its first digital editions for iPads, iPhones, and Android devices.
Shortly afterward, the magazine went live on Barnes & Noble's Nook. The publisher then introduced apps that Kindle Fire users can download to access the magazine.
History and new technology (digital magazines, for instance) can seem like polar opposites acknowledges Jim Kushlan, AMERICA IN WWII's publisher. But, he notes, "a lot of the technology that makes digital magazines possible actually had roots in World War II."
The war years witnessed "the beginnings of telecommunication via visual screens, proto-computers that helped crack complex codes, radio frequency-hopping devices that would become a component of cellular communication, and much more." The American WWII home front, he notes, was abuzz with invention and innovation.
"It turns out that digital magazines are very much in the spirit of World War II," he remarks.
For Baby Boomers, who constitute AMERICA IN WWII's core readership, paper magazines have been a lifelong norm. Increasingly, however, Boomers are embracing digital tablets and handhelds. That's why AMERICA IN WWII spent several months of intensive effort to launch digital versions of its magazine, says Kushlan. "We wanted to get out there while there was still a chance to be noticed," he said.
Digital editions have their benefits, Kushlan says. In most, text is searchable, turning a digital magazine into a research tool. World War II photos can be enlarged using a simple pinching motion on the screen. Web and email links are usually live. And dozens of issues fit in the space occupied by a single book.
AMERICA IN WWII remains available in print, and that's not likely to change. "I don't think paper magazines are going away," Kushlan says. "I really think people use the two formats in different ways. And for history titles, people will want both, for different reasons."
Readers can find AMERICA IN WWII's digital editions by searching for "america in wwii" on iTunes, the Nook Newsstand, Google Play, or the Amazon Appstore, or, for the desktop version, coverstand.com.
Links to all of the magazine's digital editions are available at http://www.AmericaInWWII.com/subscriptions/, where print subscriptions can also be purchased. The print edition is on sale at Barnes & Noble and Books A Million stores across the United States, and at selected other bookstores.
AMERICA IN WWII and AmericaInWWII.com are publications of 310 Publishing LLC of Harrisburg, Pennsylvania, a company committed to telling the stories of history in human terms.