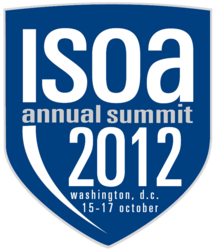 [Ambassador Negroponte's] experience as the Deputy Secretary of State and Director of National Intelligence are just the highlights from a truly remarkable career"
Washington, DC (PRWEB) October 08, 2012
The International Stability Operations Association is pleased to announce that Ambassador John Negroponte will deliver a keynote address at the 2012 ISOA Annual Summit, to take place at the National Press Club in Washington, D.C. on 15-17 October 2012.
Ambassador Negroponte has nearly 50 years of public service. Before his role as the Deputy Secretary of State from 2007-2009, Ambassador Negroponte was appointed the first Director of National Intelligence, which he held from 2005-2007. He has served as the United States Ambassador to Iraq, Mexico and Honduras. Ambassador Negroponte was appointed as the U.S. Ambassador to the United Nations under President George W. Bush from 2001-2004.
"The inclusion of Ambassador Negroponte is a huge addition to our Summit," says ISOA President, Doug Brooks. "His experience as the Deputy Secretary of State and Director of National Intelligence are just the highlights from a truly remarkable career that include time as Ambassador to Iraq and the UN."
Further details of the 2012 ISOA Annual Summit are available at http://stability-operations.org/summit2012
For sponsorship and exhibition information, please contact Jason Kennedy at JKennedy (at) stability (dash) operations (dot) org.
For event and registration information, please contact Jessica Mueller at JMueller (at) stability (dash) operations (dot) org.
About the ISOA Annual Summit
The ISOA Annual Summit is the premier annual event of the stability operations community. Over two days, attendees participate in open dialogue on trends, challenges and tools for success in their work towards stability, peace and development in fragile environments worldwide. Partners across the private, nongovernmental, academic and government sectors are invited to share their experiences and knowledge at this unique event.
About ISOA
ISOA is the international trade association of the stability operations industry, promoting ethics and standards worldwide and advocating for effective utilization of private sector services. ISOA members are leaders in the industry and are supported by ISOA's outreach, education and government affairs initiatives.