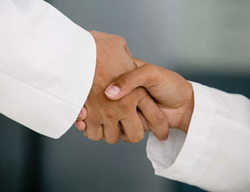 This is not a reaction to distress or an effort to downsize; in fact, both practices are equally successful and financially healthy.
Columbus, Ohio (PRWEB) December 06, 2012
The two largest privately owned orthopedic surgery practices in Central Ohio: The Cardinal Orthopaedic Institute and Ohio Orthopedic Center of Excellence have announced plans to merge. Intended to become official some time in early to mid 2013, this merger will represent the largest physician owned orthopedic practice in the state of Ohio.
With similar organizational cultures and commitments to excellent patient care, the groups share a long standing history of mutual respect for one another. Recent changes in health care led to conversations about the benefits of merging practices, and becoming one. This new organization will house more than 50 orthopedic surgeons and specialists at more than 11 locations distributed throughout the central Ohio area and surrounding regions.
The transition to a newly merged organization will be gradual and such that patients and referring physicians should not experience significant changes in service or care.
"Both practices have been successful, historically, but the opportunities for growth are simply greater now as one physician group", says Tim Smith, CEO of Ohio Orthopedic Center of Excellence. "We can do more for future patients together than apart."
This trend in merging private physician practices is growing nationwide. Physician groups are reaching out to each other to combine resources like leadership skills and information technology, and these are passed along to patients as more comprehensive and convenient care.
"This merger is a natural fit as our physicians and associates all share a similar mission. We all strive to provide the highest quality care to our patients, with a very decided focus on outstanding service and unmatched convenience," Says Dale Ingram, CEO of The Cardinal Orthopaedic Institute. "We look forward to this new venture, and continued growth here in Ohio."
As the legalities are finalized, the group plans to address many aspects of this new collaboration including operational details, brand considerations and to strengthen the overall commitment to their respective communities.
About The Cardinal Orthopaedic Institute:
The Cardinal Orthopaedic Institute is the largest and most comprehensive orthopedic practice group in central Ohio, with a singular focus: To keep patients moving toward a healthy, independent and fully mobile life, at every stage.
The practice offers several convenient locations throughout central Ohio and 27 board-certified/eligible orthopaedic and physical medicine physicians, including: general orthopedists and fellowship trained specialists in neck and spine, hand and upper extremity, foot and ankle, total joint replacement and reconstruction, sports medicine, knee, and shoulder. For more information, visit http://www.cardinalortho.com.
About the Ohio Orthopedic Center of Excellence:
World Class Care, First Class Caring; this is the motto of the physicians and staff of the Ohio Orthopedic Center of Excellence. With the largest number of board certified, fellowship trained orthopedic surgeons and specialists under one roof in central Ohio, Ohio Orthopedic Center of Excellence has one simple mission: to help people.
With a comprehensive approach to orthopedics, Ohio Orthopedic Center of Excellence offers the complete spectrum of expert care from diagnosis to surgery to complete physical therapy and rehabilitation. The team includes surgeons and specialists in areas of spine, physical medicine, total joint replacement, sports medicine, foot and ankle, hand and upper extremity. For more information, visit http://www.ohio-ortho.com.