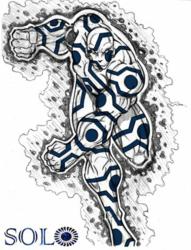 Baltimore, Maryland (PRWEB) June 19, 2012
The Marketing Genie Inc., a multimedia advertising agency based in Baltimore, Maryland announces an upcoming animated film, SOLO.
In this exciting new animated movie, the creators brilliantly weave social consciousness into thrilling plots. The story of the animation follows MMA champion Malcolm "Massive" Blake's transformation from prizefighter to environmental superhero. Blake's father, a brilliant inventor and scientist, creates a solar-powered nano-byte suit designed to be a hazardous material clean-up suit. In testing the suit, Blake's father discovers that the suit has a more remarkable functionality. The suit has the unimaginable ability to cleanly eliminate pollution as well as being an unstoppable weapon. Ironically, Blake's father was mysteriously killed, before publicizing his findings.
After his father's mysterious death, Malcolm "Massive" Blake finds the suit and uses it to become SOLO, a superhero determined to clean the planet and avenge the ecological tyrants responsible for his father's death.
About The SOLO Project
SOLO was created by Ali Simeto, Perry Blackmon and visionary animator Marlon Sullivan. At the time of this release, a feature film script is being finalized. An animation preview of the character SOLO may be viewed now on YOUTUBE at solotheplanethero. The SOLO production team has officially begun raising funds through Kickstarter to take the script into production by fall of 2012. The team seeks investors and production partners.
Support this effort by contributing at http://www.kickstarter.com/solo-animation. The SOLO production team may be reached through Ali Simeto at (386) 479-3621 or email to solotheplanethero(at)gmail(dot)com. Visit the SOLO website at http://www.solotheplanethero.com