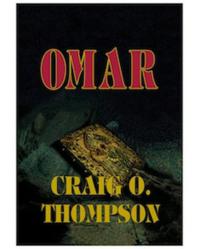 "The KBR Best Indie Book Competition is our reviewer's way of giving independent authors the recognition they deserve," Jeff Bennington, The Kindle Book Review.
Indianapolis, IN (PRWEB) December 08, 2012
The Kindle Book Review's Best Indie Book Competition recently awarded StrataGem Press' "Omar: A Novel", as its 2012 Grand Prize winner in the Thriller/Mystery category. The epic novel", by counter-terror consultant and author Craig O. Thompson, is described as "an action-adventure, techno-thriller with a blend of historical fiction." StrataGem Press™ is the small house subsidiary of Brightwater Publishing Company.
The annual Best Indie Book Competition is sponsored by The Kindle Book Review (TheKindleBookReview.net), a leading Internet site that allows e-book readers to discover well-reviewed, lesser-known and up-and-coming authors.
Jeff Bennington, founder of The Kindle Book Review said, "The competition awards author's books that are judged to be of high quality by our expert, prolific readers. Through the process our judges discover an impressive array of talented independent authors."
Along with previously published print editions of the book, "Omar: A Novel" is currently formatted to be read on all Kindle, iPhone, iPad, Android, Mac and PC devices. According to Brightwater Publishing Company / StrataGem Press™, additional digital formats will be published by January 2013. This digital e-book edition is offered in the US, Canada, UK, France, Germany, Italy, India, Brazil, Spain and Japan.
Published on January 20, 2012 in Amazon.com's Kindle Book Store, the KBR prize is Thompson's second award for his novel. Previously the recipient of the International Benjamin Franklin Awards™ Silver Award for Best New Voice – Fiction, "Omar: A Novel" had already sold over 5000 digital and print copies through the third quarter of this year. "Omar's" publishing company, StrataGem Press™, is now gearing up for seasonal holiday sales.
Reviewers have described "Omar: A Novel" as a book suitable for fans of Tom Clancy, Robert Ludlum, Clive Cussler, Jack Higgins and Wilbur Smith, among others.
"Omar" Synopsis: In 1995, CIA/FBI jointly discover plans to recover a trove of priceless treasure from deep below the North Atlantic Ice Barrier, aboard RMS Titanic. Ultra-zealous terrorist divers compete against others as they set off a complex web of international intrigue and suspense. CIA's Colonel Bramson recruits Dr. Cary Parker, Woods Hole oceanographer / archaeologist, to beat both teams to Titanic's grave. And a wave of worldwide terrorism is set into motion at 2077 fathoms, as a rare, priceless book and lost treasure becomes the primary focus of a triadic search. Parker, challenges the terrorists on his own turf, and what follows is an epic adventure of legendary proportions.
Starting early, in 2012, KBR's international competition initially pre-screened over 600 entries between April-May. Entries had to have at least 10 reviews with a minimum 4.0 Stars to qualify. The e-books were read and judged on formatting, writing quality, and if the book "grabbed" the judges from the beginning.
Bennington added, "Our judges enjoy uncovering new talent, and have read nearly a thousand indie/small press books this year, not counting contest submissions. The KBR Best Indie Book Competition is our reviewer's way of giving independent authors the recognition they deserve."
On September 1st, the readers, each of who focused on specific genres, then turned to the 170 semifinalists. Concurrently, some reviewers were also judges in other book writing contests, such as the revered San Francisco Book Festival. in addition to "Omar: A Novel" by Craig O. Thompson, the Thriller/Mystery finalists included "Chasing Innocence" by John Potter; "Last One Chosen" by Stephen Woodfin; "Project Moses" by Robert B. Lowe; and "The Fall of Billy Hitchings" by Kirkus MacGowen
Thompson's novel passed each level of screening and was ultimately named Grand Prize winner for the Thriller/Mystery category, along with other winners in the SciFi-Fantasy, Romance, Literary-Fiction and Horror-Suspense categories. The award recipients were announced via a special video released simultaneously on TheKindleBookReview.net site and on YouTube.com.
Editorial reviews for "Omar: A Novel" include: "Given the terrorist threats both to our homeland and to our citizens abroad...this deep ocean adventure thriller could not be more timely." Henry H. Shelton Chairman, Joint Chiefs of Staff (Ret.); "(Omar is) a novel that reads extremely well... marvelous climax.... Bravo." Robert Gover, New York Times Bestselling Author of "One Hundred Dollar Misunderstanding"; and, "....Omar forecasts tomorrow's headlines.... This well-researched fiction is a timely window into potential disasters for unprepared nations." U.S. Senator, Richard G. Lugar, Former Chair, Senate Select Committee on Intelligence.
Award-winning author/speaker/keynoter, Craig O. Thompson, is a counter-terrorism and business disaster recovery planning consultant, and communications director for the International Association for Counterterrorism & Security Professionals (IACSP). Mr. Thompson holds a B.S. and M.A. in Education from Northern Arizona University. He is currently working on two novels, a non-fiction book and three screenplays.
Digital E-book copies of the award-winning "Omar: A Novel" may be previewed online or wirelessly downloaded directly through http://www.Omar-Thriller.com. Hardbound and softbound editions are also available through Amazon.com
Brightwater Publishing Company | StrataGem Press™
P.O. Box 503, Greenwood, IN 46142-0503
@Craigt1
http://www.Omar-Thriller.com