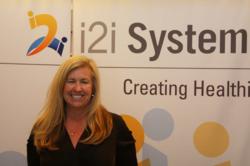 "If we agree on the need for a health care industry that focuses on quality and outcomes – and I think we do – then we need to build a healthy ecosystem of tools around the EHR." Janice Nicholson
Santa Rosa, California (PRWEB) December 05, 2012
EHR data that is difficult to access and quality measures that are not in a reportable format are undermining our efforts to ensure quality measurement and promote quality improvement in healthcare today, according to i2i Systems CEO and Co-Founder Janice Nicholson, testifying at the public hearing, "Ensuring the Quality of Quality Data," jointly sponsored by the Quality Measures Workgroup and the Certification and Adoption Workgroup of the Health IT Policy Committee (HITPC), on November 30, 2012, in Washington, DC.
"Ensuring the Quality of Quality Data" sought to address challenges for management and assurance of data quality for EHR-generated quality measurement. A federal advisory committee, HITPC provides strategic and policy recommendations, and is currently drafting recommendations for Meaningful Use Stage 3.
During her presentation, Nicholson explained that "the biggest challenge to EHR-generated data is that much of the data required for quality reporting is captured in text fields that are not codified. Meaningful Use specifications define measures as CPT, ICD9-10, and SNOMED codes, but very few of the EHRs (none that I've been exposed to) use these coding methodologies universally." Healthcare providers today are challenged to generate meaningful clinical quality measures from a database filled with custom text fields that are not codified.
According to Nicholson, the major lesson from Stage One Meaningful Use is that "asking for the data is one thing, but using the data is another. We see our customers -- hundreds of health centers and smaller practices -- drowning in their new-found technology and focusing so heavily on data capture and compliance with reporting that improvement has been put on the back burner. Producing a report has become more important than what the report is saying."
How can we remake Health IT into an engine for quality and process improvement? During her presentation, Nicholson commented that "EHR companies should concentrate on their core business of supporting the care documentation process while maintaining a solid patient health record. EHRs need to address the lack of commonality of how data is represented and stored so that it can be counted and reported accurately. Let the data focused Analytics and Reporting companies use their core expertise- data integrity, aggregation and clinical performance reporting.
"If we agree on the need for a health care industry that focuses on quality and outcomes – and I think we do – then we need to build a healthy ecosystem of tools around the EHR."
To download Ms. Nicholson's complete presentation before the HITPC, visit
http://www.healthit.gov/sites/default/files/11_30_12testimony_janicenicholson.pdf