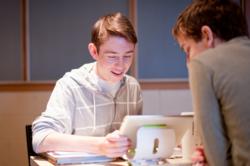 Southfield Christian School became one of the first schools in the country to implement a 1:1 technology solution utilizing the Apple iPad.
Southfield, Michigan (PRWEB) December 31, 2012
In 2010 Southfield Christian School made a purposeful decision to become a leader among academic institutions in the use of technology. In assessing ways that the classroom experience could be improved, this was a clear opportunity. The administrative team and school board carefully studied the options and embraced a plan to alter the way that teachers teach and students learn. Beginning in the 2011 school year Southfield Christian School became one of the first schools in the country to implement a 1:1 technology solution utilizing the Apple iPad.
The staff and faculty at Southfield Christian School have a passion for pushing the envelope when it comes to ensuring their students receive a world class education. As school leadership considered how best to implement new learning technology they consulted with experts on the subject and considered how a new platform could open fresh and exciting learning pathways for each individual student. The Apple iPad was a natural choice.
Now, firmly in the second year of the program, Southfield Christian School has learned much about what works and what does not when it comes to technology in the classroom. Teachers are finding new ways to communicate information to their students. Applications like Nearpod let teachers move away from traditional power point presentations to an individualized interactive environment that allows students to move at their own pace and really absorb the material in each lesson.
This new technology is also having an impact on the more traditional aspects of running a school, such as text books. Aging textbooks have long been a problem in the K-12 market. New digital solutions allowed Southfield Christian to begin transitioning to electronic textbooks. Each year, the high school will replace a few textbooks at a time. In 2012, three core textbooks were upgraded to their electronic versions. These electronic books include multimedia resources and study aids that their paper counterparts could never incorporate.
As Southfield Christian School continues to nurture the technological savvy of their students and faculty, the administrative team frequently reflects on the core of their mission. Peter Webber, Director of Operations, commented that: "This is about the whole student. 'Today's Learners, Tomorrow's Leaders, Forever Lovers of Christ' is not just a tag line, it's the way we spend our days. More than anything else, I love working with staff that pours into the lives of students and genuinely cares about their character and relationship with Jesus Christ."
Southfield Christian School is a college-preparatory, PK-12 educational community committed to pursuing excellence for the glory of God. The school, which is a ministry of Highland Park Baptist Church in Southfield, Michigan, first opened its doors in 1970. Currently more than 500 students are enrolled in grades PK-12. The students attending the school come from over 40 different cities and 100 different churches from all over metropolitan Detroit. In addition to the integration of Biblical values in what is taught to the students, the school places a great emphasis on academics. Southfield Christian is a member of the Association of Christian Schools International and is recognized as a National Exemplary School; it is accredited by the North Central Association of Colleges and Schools (NCA) and the Independent Schools Association of the Central States (ISACS). For more information about Southfield Christian School, visit their website http://www.southfieldchristian.org.