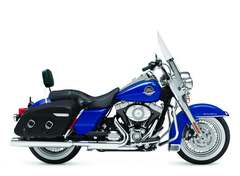 A car is a cocoon, a motorcycle makes the rider a part of the scene.
(PRWEB) May 11, 2013
CarRentalExpress.com (CRX) is pleased to announce that EagleRider.com's motorcycle fleets across the US will now be available for rent at the CRX online booking website. Harley's, BMW, and a variety of other bikes can be found at dozens of locations.
EagleRider is the world's largest rental provider of Motorcycles. In keeping with CarRentalExpress.com's suggestion that this is a good year to have a "Stay-cation", this is a perfect year and a perfect time of the year to rent a "BIKE". Many cities across North America have EagleRider locations. Renters who hold a valid motorcycle license can take a day or two or three and hit the not so traveled roads around their home-base. All EagleRider bikes are equipped to handle 2 passengers so there is plenty of room for company.
The best way to enjoy scenery is to be part of it. A car is a cocoon, a motorcycle makes the rider a part of the scene. The smells and the open air allow appreciation of the surrounding environment. There is no need to travel long distances by plane or train to see something new. From the back of a motorcycle, well-traveled areas are new again.
Riding a motorcycle, especially a Harley or other big cruiser, is a great way to relieve stress. On the back of a motorcycle one is too busy paying attention to worry about the mundane
EagleRider can supply all the necessary riding equipment to help insure safety and options and extras can be found at CRX. Being on a motorcycle does make a person more vulnerable. The proper riding gear is a must. And also to help insure safety one must ride very defensively.
CarRentalExpress.com (CRX) provides thousands of impartial consumer based Renter Rated reviews, including comments, for more than 200 car rental agencies. Real people who have completed rentals through the site are invited to submit reviews and provide comments.