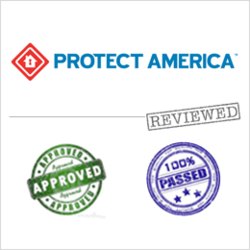 Protect America has been a industry leading home security company and 2013 is no different. The company is pushing forward with new pricing, technologies, and services.
Austin, TX (PRWEB) April 08, 2013
Protect America, an Austin, TX, based home security and alarm system company, has landed in the list of top alarm system companies according to Alarm System Report, a nationally recognized and award winning consumer research and review company that covers the home security and alarm industry. The company provides professionally researched and written alarm system reviews and annually rankings overseen by a panel of independent security experts.
Alarm System Report relies on a combination of contracted home security consultants and an internal staff of writers and home security specialists to conduct ongoing reviews of all of the country's top home alarm systems. Using a data driven comparison metric developed by consumer review specialists, the company's website—alarmsystemreport.com—also creates and publishes an annual ranking of the nation's best alarm systems. The web site also hosts a series of sub-rankings, including best wireless alarm system, best DIY home alarm system, best cellular alarm system, and best integrated home alarm and home automation system.
Protect America ranked among the top five in all of these categories, in large part due to its aggressive pricing structure and special promotional deals, as well as its focus on technological innovation in the areas of wireless alarm systems and smart phone and other cellular remote access and monitoring apps that integrate seamlessly with home owners' alarm system control panels.
Reviewers noted that Protect America is among the least expensive alarm system companies, as well as customers are willing to sign a long term contract and take advantage of one of the company's new customer promotions. The company uses industry leading GE home alarm system equipment and provides up to $1,300 of free equipment when customers sign an alarm system service monitoring agreement. Monitoring service contracts include a rate lock as well, so customers do not have to worry about being trapped in unexpectedly expensive contracts with high early cancellation fees.
"Protect America is interesting example of how a small company with big ideas can go from a small hole in the wall home security consultancy to a full fledged national alarm system retailer and service provider in as little as a year or two," said Steve Ordona, chief of public relations for Alarm System Report. "The company started off in Austin, TX, a place known for its technological innovation, and immediately started experiencing unprecedented growth. Much of their success likely lies with their ability to provide top technological solutions for customers who are increasingly interested in 'smart' homes in which everything is connected to the Internet. Their pricing doesn't hurt either."
The Protect America review available on alarmsystemreport.com provides additional in depth coverage of the company's affordability, overall value, alarm system equipment, customer service, technical support, service plans, and other reviewer insights. Potential home alarm system buyers can also use alarmsystemreport.com's new instant quote feature to find exact pricing information, as well as all of the promotions and coupons that the company is currently offering.
About AlarmSystemReport.com
AlarmSystemReport.com is a consumer review web site dedicated to serving shoppers and home owners in the home alarm and security sector. Its team of security experts has years of experience in the home security sector and brings their expertise to bear on providing consumers with all of the most accurate, easy to digest, and timely information possible.