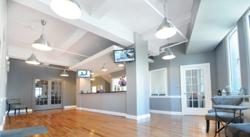 Love Where You Work!
New York, NY (PRWEB) January 10, 2013
Days after Hurricane Sandy slammed the Tri-State area many downtown companies affected by the storm were unable to gain access to their office space for a wide range of reasons. The Downtown area of New York City was one of the areas largely impacted by the super storm. Building basements were flooded, power was out, elevators were not operational making access impossible. Millions of square feet of office space were not accessible by tenants in those buildings due to power outages and safety concerns. This created challenges for many companies who did not have the ability to close their doors while repairs were being made.
What does a company do when they can't gain access to their space and business must go on?
The Brownstone Agency was one of the companies located in Downtown NYC less than a block from South Street. Brownstone had no means of entering their office space and were told it would be months before they could step foot in the building. As a solution to resume business as usual was desperately needed and the need to regain a sense of normalcy, John Simone, Managing Director of The Brownstone Agency did what any savvy business person would do to protect his business. He searched for a flexible office suites provider reaching out to Select Office Suites to secure space for his 100 employees and within 48 hours John's team was up and running! Select Office Suites offered The Brownstone Agency the flexible, month to month arrangement John was seeking. The offices and team rooms are fully furnished, wired for phones, high speed internet, conference rooms, meeting rooms, onsite café's. This made for an ideal temporary and affordable solution.
Select Office Suites is located in the Chelsea and Flatiron areas of NYC. They have been a provider of shared office space solutions for over 2 decades, accommodating groups of 1 to over 100 employees. They promote a community environment with networking opportunities, access to cafes and lounges, an incredibly courteous staff and solid infrastructure.
You can connect with Select Office Suites by visiting http://www.selectofficesuites.com or by calling 212-851-8400.