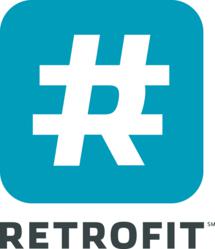 What resonates with me about the Retrofit program is not only its focus on losing weight, but also how the program assists its participants in establishing a healthy lifestyle – a lifelong New Year's resolution!
VISTA Staffing Solutions EVP Clarke Shaw
Skokie, IL (PRWEB) January 02, 2013
Retrofit Inc., the expert-led, data-driven weight loss program for busy professionals, announced today that it is making long-term New Year's health resolutions come true for the employees of one lucky Salt Lake City company. Retrofit CEO Jeff Hyman awarded VISTA Staffing Solutions the Grand Prize of up to $300,000 in free weight loss services to transform and revitalize its staff.
VISTA entered the groundbreaking Retrofit My Company Contest last month with hopes of winning a year of free weight loss for up to 100 employees. Hyman flew to Salt Lake City on behalf of Retrofit to personally congratulate VISTA employees and Executive Vice President of VISTA Staffing Solutions Clarke W. Shaw.
More than 90% of Retrofit clients are losing weight on the innovative program that uses the latest technology in wireless tracking devices along with highly-trained wellness experts. Each client consults with a registered dietitian, exercise physiologist, and behavior coach via Skype™ videoconferencing. The Retrofit program is designed for individual clients as well as corporate weight loss programs.
"Employers incur an average of almost $1,500 a year in additional health care expenses for each overweight employee," said Hyman. "Such high costs drain companies of money that could otherwise be invested in growth, new products, and hiring. Retrofit is excited to award this program to VISTA employees and track their progress as they reap the health benefits of weight loss."
"Winning this contest is a great opportunity for VISTA and our employees who want to make
meaningful changes in their lives," said Shaw. "What resonates with me about the Retrofit
program is not only its focus on losing weight, but also how the program assists its participants in establishing a healthy lifestyle – a lifelong New Year's resolution!"
"We're very happy to have been selected as the winning organization of the Retrofit My Company Contest," said Christian Rutherford, president of VISTA Staffing. "The Retrofit program will be a welcome and leading part of our wellness efforts in 2013, as 100 lucky VISTA Staffing Solutions employees receive the gift of sustainable weight loss."
VISTA joins the growing list of Retrofit corporate clients, including Dolby, Oreck, Sagent Pharmaceuticals, Millennium Pharmacy Systems, and more.
Dr. Rich Interdonato, a VISTA employee, compiled the winning entry, which stated:
"VISTA deeply understands and even depends on the universal need for quality health care providers. In spite of our awareness of the importance of health care and health in general, the nature of VISTA's global business requires that our employees spend a large portion of their day practicing the 'sedentary arts' of deskbound communication....Achieving the Retrofit promise of reducing participant weight by 10% and keeping it off throughout the end of the program would not only benefit the employees of VISTA by improving their health and reducing at least one significant risk factor (i.e. overweight), it would also inject 'the fun' of participating in a health promotional intervention into the workday again and that would be a warmly welcomed change."
Retrofit has recently been featured in the Wall Street Journal and Forbes as the "front runner in harnessing wireless and remote technology to help its busy clients lose weight".
Two-thirds of Americans are overweight, and costly related health conditions including cardiovascular disease and Type 2 diabetes are soaring. According to a Duke University study, the combined estimated value of medical expenditures, absenteeism, and reduced productivity resulting from overweight full-time employees is $73.1 billion per year.
The Retrofit My Company Contest aims to help turn the tide on America's obesity epidemic. Retrofit wellness experts, who teach sustainable behavior change through private lessons, will spend a year transforming the winning company into a healthy and energized workplace.
Retrofit launched the month-long contest November 13, 2012. Prominent judges included: J.B. Pritzker, Managing Partner of The Pritzker Group; Larry Levy, CEO of Levy Organization; Bruce Cazenave, CEO of Nautilus, Inc.; Wayne Cooper, Publisher and Chairman of Chief Executive Group; Jeffrey Yordon, CEO and President, Sagent Pharmaceuticals; and Dr. Holly Wyatt, Clinical Researcher at The Center for Human Nutrition.
About Retrofit
Retrofit, the expert-led, data-driven weight loss program for busy professionals, is designed to deliver lasting results. Its innovative year-long program includes wireless monitoring of a client's weight, activity and sleep, as well as private lessons with a registered dietitian, exercise physiologist, and behavior coach. Retrofit recently raised $8 million in a Series A financing led by Draper Fisher Jurvetson (DFJ), bringing the total investment in Retrofit to $10.7 million.
Retrofit can be found on the Web at http://www.retrofitme.com and (855) 4-RETROFIT. Follow the company on Facebook and Twitter at @retrofitme.
About VISTA Staffing Solutions
VISTA Staffing Solutions, a division of On Assignment, Inc., is a leading provider of locum tenens physician staffing and permanent physician search services. Founded in 1990, the company helps hospitals, medical practices, and government agencies solve their physician staffing challenges. VISTA is the only agency that offers short- and long-term domestic jobs, international work opportunities, and permanent placement for physicians. The company is a founding member of the National Association of Locum Tenens Organizations (NALTO). Physicians can visit VISTA's website for more information about U.S. locum tenens, extended placements, international locum tenens, and permanent physician jobs. Health care facilities can visit VISTA's website for more information about U.S. locum tenens staffing, extended placements, international placements, and physician search and consulting services. For more information please visit: http://www.vistastaff.com.