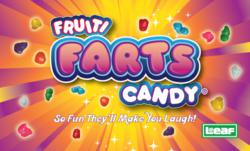 "Many of the people in the Consolidated Sales Network used to sell Leaf's products for many years and quite a few even sold Astro Pops!" "We're all excited to work with a company like Leaf once again!"
Newport Beach, CA, Januar (PRWEB) January 18, 2013
Leaf Brands® today announced the company has signed a sales agreement with Consolidated Sales Network, (CSN) to represent their full product line in both the US and Canada. With high growth in 2013, the representation by CSN of Leaf Brands will accommodate the high demand for Leaf's products in both these markets. CSN will focus on building national account and distribution for retailers such as Wal-Mart, Target, CVS along with nationwide and regional distributors and specialty stores.
It's a great problem to have for many companies, but Leaf Brands finds itself fielding many requests each day for their products across the US and Canada with consumers finding it hard to locate some of its most popular products. "The demand for Leaf's products such as Astro Pops®, Farts Candy®, Sour Spanks!™ and David's Signature Beyond Gourmet® has been so incredible, we had to quickly accelerate phase two of our distribution plan, by signing with CSN, which will cover sales to large mass merchandisers, local/national chain stores and distributors. In phase one, we only focused on specialty retailers because we wanted to make sure our supply chain was solid first. CSN, an alliance of the top independent brokers across the US is a perfect fit for us," says Ellia Kassoff, Leaf Brands, CEO. "After looking at many of both larger and smaller independent brokers, we really love what CSN has to offer to Leaf Brands." "Each broker has been in the candy industry from 20-45 years and are all highly respected in their field." "Having them as part of a network, where they all work together, is like having an extension of our own sales department, and you can't get any better than that." Kassoff ends.
The people at CSN are also excited to work with Leaf Brands. David Tucci, who will manage the relationship with Leaf Brands for CSN comments, "Many of the people in the Consolidated Sales Network used to sell Leaf's products for many years and quite a few even sold Astro Pops!" "We're all excited to work with a company like Leaf once again and look forward to bringing all their products to your local store."
Leaf's products seem to be of particular interest because of their unique and quirky new and nostalgic confectionery products. Leaf receives daily inquiries from consumers across the US; "I'm dying for Astro Pops!" Where can I find them in Lubbock, TX?" is a common request. "I need to buy Farts!" another customer posts on the Farts Candy Facebook page. Other consumers have traveled hours in-search of Astro Pops®. So much so, the popular comic strip, 'Sally Forth©' referenced the famous pop in their recent Sunday comic strip. The character Sally comments to her daughter: "Your dad is currently driving 80 miles to a store that still sells Quisp® cereal and Astro Pops®!" It's so amazing to be back in the consciousness of the American public but with that comes the task of making our products much easier to find, and I believe CSN will accomplish that for us." Kassoff ends. Our goal in 2013 it to make it easy for all our products to be found in a store within a 10 mile radius of the customer and I think we can easily accomplish this." Kassoff comments.
###
About Leaf Brands®, LLC (http://www.leafbrands.com): The original LEAF Brands® were started in the 1920's. LEAF Brands, once the fourth largest candy producer in North America, produced candy classics such as Whoppers®, Jolly Rancher® and Rain Blo Bubblegum®, which were later sold to Hershey Chocolate & Confectionery Corporation in the late 1990's. Family members have acquired the LEAF brand name for the US, and assembled together to revive the Leaf name and its famous image. Products include Astro Pops®, Yummers!®, Farts Candy® and David's Signature Beyond Gourmet® products.
About Consolidated Sales Network, (http://www.csn-net.com): The Consolidated Sales Network is an alliance of independent brokers operating across the United States committed to providing sales, marketing and consultative solutions for manufacturers of "fast moving consumer products". CSN operated as an effective national sales and marketing service provider using both vertical and geographic business models to best serve both, our clients and our customers. Its mission is to provide quality service in all areas of the CPG supply chain while maintaining the entrepreneurial spirit of the independent food brokerage industry.