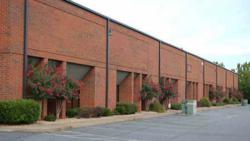 This was an outstanding acquisition for the venture due to the scale, location and quality of the real estate and becomes another major step towards establishing Meritex as a significant player in the Atlanta industrial real estate market. -Dan Williams
Minneapolis, MN (PRWEB) January 09, 2013
Meritex today announced a further expansion of its joint venture holdings in Atlanta with the acquisition of a 305,871 square foot, five building office/warehouse portfolio from Young Ventures, L.P. and the Estate of Maxwell W. Young. The Class A properties are located at 1000/1300 Cobb International Boulevard and 3380 Town Point Drive in Kennesaw, Georgia and are currently 90% occupied with 23 tenants.
"This was an outstanding acquisition for the venture due to the scale, location and quality of the real estate and becomes another major step towards establishing Meritex as a significant player in the Atlanta industrial real estate market," said Dan Williams, chief investment officer. "Additionally, this acquisition was also notable because it was a repeat transaction with a seller who sold Meritex a large portfolio in late 2010. Due to our previous track record, this seller had confidence in our ability to close the transaction before year-end and to be a good steward of the assets and tenants going forward."
This acquisition further expands Meritex's joint venture relationship with a major institutional investor by increasing its holdings in Atlanta to more than 1.4 million square feet. Meritex is the managing partner and will manage the new portfolio on behalf of the venture. "We are excited about the addition of these properties to our portfolio in Atlanta. They are highly functional assets designed to serve the wide range of businesses located in the vibrant Kennesaw submarket," commented Dan Ward, director of investments and property management for Meritex in Atlanta.
The seller was represented by Joseph Rogers with Wilson, Hull & Neal. Joseph Rogers with Wilson, Hull & Neal has been retained by Meritex as its leasing agent for these properties.
Company Information: Meritex is a private real estate investment and management company that acquires, develops, owns and operates commercial real estate, primarily institutional grade, multi-tenant industrial properties. The Company owns, leases, and manages nearly 9.3 million square feet of commercial real estate in 7 markets in the U.S. Its portfolio consists of multi-tenant industrial, office and subsurface industrial properties. The Company's properties are located in Atlanta, Columbus, Denver, Houston, Indianapolis, Kansas City, and Minneapolis-St. Paul. Additional information can be found at the Company's website http://www.meritex.com.