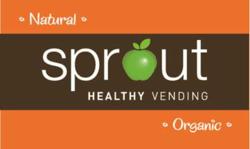 (PRWEB) January 11, 2013
With recent news surrounding the connection between high fructose corn syrup and obesity within the US, Americans are looking to improve the way they eat. Thanks to Sprout Healthy Vending's new operators, Seth and Heather Allison, the Northern Nevada area will have the chance to choose healthier snacks that are free of harmful ingredients and made naturally and organically.
Three Sprout machines will be placed in Reno, NV and its surrounding communities. The Allison's are hopeful and optimistic that locations will embrace the idea of healthy vending machines.
"Sprout Healthy Vending is an opportunity to give people a better choice in the way they want to live their lives," says Heather Allison.
Sprout Healthy Vending is considered to be a "Social Wellness" business that benefits communities by providing the largest selection of name brand, natural and organic products-including healthy drinks, snacks, yogurts and smoothies. Menu plans are developed by licensed dieticians to ensure the products in the machines meet even the strictest National, State, and Local nutritional guidelines. Sprout Healthy Vending is a beneficial business opportunity for the health conscious entrepreneur.
Excited about starting a business in their hometown, Seth and Heather Allison are looking to target active and health-oriented people. Seth is a former college athlete and golf professional, and the couple stays active by enjoying all the outdoor activities that Nevada has to offer. They currently run a local chapter of the largest and most successful recreational pool league in the country (American Poolplayers Association), and see Sprout Healthy Vending as an exciting business opportunity to run alongside their current business.
With two toddlers and a baby on the way, Seth and Heather kept their children in mind when choosing to start a healthy vending business.
"Sprout Healthy Vending caught our eye mainly because of the products in the machines. We have two toddlers, who very much prefer snacks to meals. Our goal is to keep their snacks healthy. This is often hard to do when on-the-go, so the idea of a healthy vending machine is very appealing."
Christopher Wyland, Sprout Healthy Vending Co-Founder, is selective when it comes to choosing the right operators to represent the Sprout name. "Between Seth and Heather's professionalism and their passion for healthy living, they are ideal candidates to represent Sprout through a vending business of their own," he explains.
The Allison's have plans to eventually expand their vending business throughout Nevada, and are enthusiastic about the positive, healthy choices they have now made available within their community.