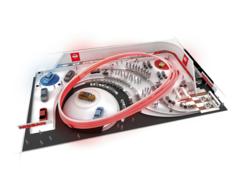 Australian scent solutions company Air Aroma has matched a fragrance to the Nissan brand for the North American International Auto Show in Detroit. Nissan commissioned the distinctive scent for their Auto show stand, entitled 'Innovation that excites'
Melbourne, Australia (PRWEB) January 10, 2013
Last year, Nissan approached Air Aroma seeking to match a fragrance to their brand and market positioning for their global auto show exhibits throughout 2013. The first auto show exhibit will run 14th to the 27th of January this year at the Cobo Centre, One Washington Boulevard Detroit, MI, USA.
The auto show stand is aimed at enticing all the senses from sight, sound, touch and very importantly, scent. Many big name brands, including luxury hotels and retailers, understand the importance of interacting with all senses as part of the customer experience and Nissan also recognises the importance.
Air Aroma perfumers were provided with an initial brief from Nissan on the style of fragrance and image they wanted to portray. Nissan wanted a fragrance that was modern, vibrant and exciting and that also hinted towards the company's Japanese roots. The scent branding experts at Air Aroma then looked at Nissan's target audience and brand identity to select the ideal fragrance.
In a statement posted on the Air Aroma website, the scent for Nissan that was eventually selected encompasses "A fresh, luxurious and oriental fragrance with hints of green tea notes". The Nissan thé vert oriental fragrance will form part of Nissan's overall multi sensory exhibition. This fragrance is described as a delicate aroma that captures the essence of green tea (thé vert ) scent during spring harvest. With a sweet, smooth and fresh feel this fragrance awakens and refreshes the senses with the purity of green tea leaves.
Nissan will diffuse the fragrance using Air Aroma's cold-air diffuser equipment for the duration of the exhibitions during 2013. The latest stand design, showcasing the Nissan scent, will be exhibiting around the world at 10 other global auto shows throughout 2013.
News of the scent has been featured on all many major media outlets including Nissan News, Edmunds, Wall Street Journal, Yahoo News, Automotive News and Autoweek just to name a few.
Air Aroma has been a provider of scent marketing solutions, fragrances and technologies for more than 14 years. Clients include Langham Hotels, Hilton, InterContinental Hotels, General Motors, Qantas, Sofitel Hotels, Carnival Cruises, Fitness First, United Colors of Benetton and many retail stores around the world. The company currently has a global network of four regional offices (Australia, Japan, the Netherlands, United States and Hong Kong) and supported by local distributors covering over 80 countries worldwide.
Contact:
Alexandre Cosic (MBA), Air Aroma National Sales Manager Australia & New Zealand
Email: Alex(dot)Cosic(at)air-aroma(dot)com
Telephone: +61 3 9017 3511
Fax: +61 3 9584 2971