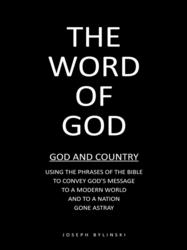 The Bible doesn't just tell us about an earlier time - its a truly living document, still relevant today in more surprising ways than one would think.
LOS ANGELES (PRWEB) January 16, 2013
To some, the Bible is simply a book of wisdom – lessons to live by taken down centuries ago that form the foundation of Christianity.
But to author and biblical scholar Joseph Bylinksi, the Bible is much more – a code, a series of phrases that form a message urgently relevant to our lives and our society today.
Backed by extensive research, Bylinski exposes the true meaning behind some of the Bible's most important phrases in his new book, The Word of God. These phrases, with massive implications for the future of the United States, convey God's messages to a nation gone astray.
"The Word of God grew out of a curiosity to discover the Bible's connection to modern life," says Bylinski. "I wrote this book as a way for people today to discover God's word and apply it to their lives in a totally new and unique way."
The Word of God is essential reading for anyone interested in the intersection of politics and religion, the future of American society, or those looking to find further meaning in the words of the Bible.
For more information, visit http://www.westbowpress.com.
The Word of God: God and Country
By Joseph Bylinski
ISBN: 978-1-4497-6960-4
Softcover, retail price: $13.95
Hardcover, retail price: $30.95
E-book price: $3.95
About the author
Curiousity about two puzzling biblical phrases led Joe Bylinski to read the Bible, which was not only a discovery of the wisdom and guidance it provides. After finding another mysterious phrase, it fueled a feverish hunt to discover even more. Quickly uncovering phrase after phrase, which were associated to each other or which seemed to mean something other than what the message of the story was initially conveying, suddenly caused the Bible to become viewed as a code book full of secret messages. This evolved into arranging those mysterious phrases together, and as they came together, fascinating and unexpected lessons were learned.
Some learnings prompted further investigations, like wondering why God would care about our laws, our courts, and our history. These rather bewildering questions caused Bylinski to pursue paths he never expected.
# # #