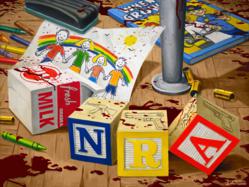 If you feel the need to protect our children is greater than the need to own an assault weapon, email your elected leaders on January 20.
Washington, DC (PRWEB) January 16, 2013
D'Antuono takes aim at pro-gun organizer Larry Ward's "Gun Appreciation Day" by declaring the very next day "Gun Depreciation Day." On the eve of the Presidential Inauguration, the artist will debut his latest painting "Brought To You By The NRA" at the opening of The Newtown Project: A Call To Arms, a group exhibition at the Charles Krause Reporting Fine Art Gallery, just a few blocks from the White House. Mr. Krause, an award-winning journalist turned gallery owner was once shot and nearly killed by a weapon like the ones used at the Newtown shooting. He is donating the use of his gallery to promote the need for more effective gun control legislation. All of the participating artists have agreed to license their pieces free of charge for public education campaigns supporting passage of meaningful and effective gun control to all 501-C-3 organizations engaged in public efforts to secure those laws.
On Gun Depreciation Day, D'Antuono is asking all concerned citizens who feel that the need to protect our children is greater than the need to own assault weapons to email their representatives to demand more meaningful gun control laws.
The gallery has been overwhelmed with submissions from artist across the country eager to join the movement. While approximately thirty pieces of hard-hitting art will be hanging at the gallery, many more will be displayed on the TheNewtownProject.org website.
D'Antuono's art has stimulated national dialogue before. His paintings "The Truth" and "A Tale Of Two Hoodies" have stirred passionate and widespread debate. As the Obama administration negotiates ways to curtail gun violence, the timing of D'Antuono's Brought To You By The NRA couldn't be more fitting.
Opening Reception: Jan. 20, 2013 1-7pm. Closing: Feb. 18, 2013
Charles Krause Reporting Fine Art gallery is located at 1300 13th Street NW, corner of N, Suite 105, Washington DC 20005. For more details about the event you can go to http://www.CharlesKrauseReporting.com or email info(at)CharlesKrauseReporting(dot)com.
To see more of D'Antuono's work you can visit http://www.ArtandResponse.com