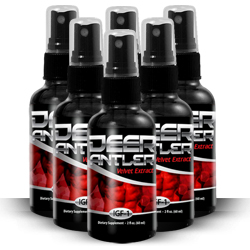 Deer Antler supplements have steadily grown in popularity over the past three years
Mesa, AZ (PRWEB) January 21, 2013
Deer Antler Velvet Extract has announced that it has released a blog on their website to increase exposure of the supplement.
Deer Antler Velvet Extract, a performance enhancing deer antler spray supplement, has initiated a new blog on their site and have hired a writer to manage the blog. Most popular for its coverage in baseball as a banned substance, Deer Antler supplements have steadily grown in popularity over the past three years. As online search for the product has grown, so has the need for informational web resources, able to spread knowledge on the supplement.
When the companies marketing director was asked about the new blog addition to the site he commented, "Every site has one and rightfully so. It's a great way to spread information on products and keep customers informed on the latest news on the supplement."
The blog will feature informational articles, and updates on the latest scientific findings on the supplement. The blog has also received a custom design, to help make it stand out to its audience.
To Learn More about Deer Antler Velvet Extract Please visit http://deerantlerspray.com/