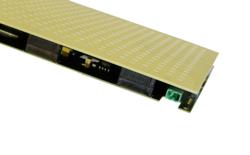 (PRWEB) January 22, 2013
Phasor Solutions Ltd, a privately held company, that since 2005 has been developing a new phased array antenna technology for commercial and defence satellite communications on the move (SATCOM) markets, announced today that it successfully concluded its first test communicating with a Geostationary satellite, Intelsat 905. Live data streams were transmitted in the 11 GHz Ku band over an Intelsat satellite link received by a Phasor low profile antenna array at the company's London R & D facility.
The patented Phasor antenna provides travelers on moving vehicles such as trains, airplanes, ships or military vehicles with high bandwidth internet communications wherever they are, including the worlds most remote locations.
Measuring only 1", the antenna which can be made to fit any surface, flat or conformal, conveniently replaces today's large, moving parabolic dishes with a low-profile antenna system which is electronically steered to any chosen satellite. With no moving parts, the Phasor antenna is nearly invisible and far more reliable than existing systems.
From a technical point of view, the gain of the array aperture was shown to be equivalent to that of a conventional parabolic reflector antenna with a similar aperture thus proving the beam forming capability of the array which is achieved by populating the antennas with
thousand of microwave integrated semiconductors, with each contributing to the active electronic auto- alignment and tracking of the signal.
Phasor's novel design provides significant cost reduction compared to traditionally very- expensive phased array antennas, offering comparable pricing to conventional parabolic reflector antenna. The system uses no mechanical or moving parts and so offers unprecedented reliability at a cost competitive with far less capable conventional motor-driven parabolic reflector antennas. Uniquely it allows large apertures to be assembled using interlocking panels which may be extended as required for the EIRP or G/T requirement.
Phasor Solutions is currently preparing a number of satellite communication products, signing agreements with key suppliers, and entering into business partnerships with several key global communications companies in the commercial and defence markets. Designs are currently being implemented to address the X, Ku, Ka satcom frequency band. Applications for weather radar and highly directional fast point to point communications at a variety of frequency bands are also being conceived.
Images: http://www.flickr.com/photos/16281056@N00/sets/72157632573084575/