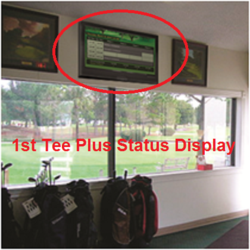 "We love it!!" - Grace Bukowsky, GM, Cove Links Golf Course, Delta BC
Vancouver, BC Canada (PRWEB) January 23, 2013
The newest version release of ZoomTee offers golf course owners and managers a number of improvements from its previous version.
The improvements to the Tee Sheet Manager of the ZoomTee System includes the addition of a Modified Shotgun, which allows the golf course to further maximize course utilization by efficiently adding smaller groups into shotgun starts over different contiguous holes on the golf course.
ZoomTee has also expanded a number of the Administrative functions with the Tee Sheet Manager. It is now easier to manage operating hours, starter times, seasons, early birds, twilights and other aspects of tee sheet organization and execution. This newest version also makes it easier to create and manage Green Fee categories and their associated price points.
The management of League membership and League play has also been improved.
The ZoomTee Tee Sheet Manager is now fully integrated with MailChimp, a leading email-marketing service. This integration makes email marketing to your customer list easy and fast.
The ZoomTee Point of Sale (POS) systems for Pro Shops and Food & Beverage facilities has also been improved in this new version release. Existing reports have been improved and new reports added. The addition of Accounting Reference Codes has improved the usability from an accounting perspective. From the daily system users perspective, we have improved the ease of use for a number of features including discounting and split checks.
ZoomTee is a fully integrated (with the ZoomTee POS and MailChimp), feature rich, easy to use system that many golf courses consider the leader in the next generation of Golf Course Management Software Systems. ZoomTee also has the industry's only 1st Tee Plus Status Display System which improves guest communication, makes pro shop staff more productive and generates advertising revenue. The ZoomTee Online Booking System is the best designed system on the market and appreciated by both players and golf course management.
About ZoomTee Golf
ZoomTee Golf is a member of The Quartz Innovation Group, which has been delivering industry leading software solutions since 1993. The award winning Quartz Innovation Group has clients in 38 countries ranging from very small businesses to multinational Fortune 500 companies. Our product development focus is to combine innovation with our many years of experience to deliver software solutions that are feature rich and easy to use.