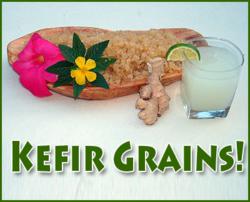 Sarasota, FL (PRWEB) January 22, 2013
Erin Melia is the mother of 9 year old daughter Zoe who has been struggling with Autism, and Autism related symptoms since she was 2 years old. Over the last 7 years Erin has been doing just about everything she could to help recover her daughter from Autism and along the way has made an amazing discovery.
One of the main symptoms of Autism is intestinal dysbiosis, which is basically and imbalance in the intestinal bacteria which can lead to things like constipation, Candida infections (yeast overgrowth), irritable bowel syndrome, and other uncomfortable conditions.
Zoe was suffering from Candida and troubled bowl movements, and so her Mom began the search for a natural solution to the problem, which included introducing special diets and adding enzymes to her food to help aid in the digestion.
Along the way Erin stumbled across "kefir" which is a probiotic that is traditionally fermented and sold as a milk based product by companies such as LifeWay in stores like Whole Foods, and other health food stores.
The issue with the milk based kefir is that people often suffering from intestinal dysbiosis also have trouble with digesting dairy products or may have a lactose intolerance. But there is an alternative "kefir grains" that Erin discovered that can be fermented in either distilled water or coconut water.
After just a few days of introducing the water kefir into Zoe's diet, Erin was amazed at the improvement in Zoe's conditions. Her daughter was having healthy regular bowl movements in less than a week!
Because the water kefir had worked so well with Zoe, Erin started to give it to the rest of her kids and husband, and everyone reported feeling a difference within a day or so and after just a few weeks noticing an improvement in their skin, having more energy and other great results.
Since then Erin has been making "water kefir grains" available for everyone to enjoy the health benefits from, and now grows and offers live kefir grains on her website. You can visit her site to learn more about the benefits and how you too can make your own water kefir here: