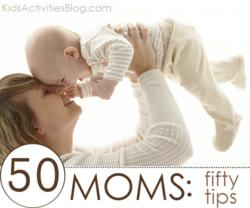 Only perfect parents are people without children.
Dallas, Texas (PRWEB) January 29, 2013
The ultimate parents guide, an enormous list of 50 parenting tips from 50 different Moms, and a practical parents guide to keep the household safe and sane has been published on Kids Activities Blog.
The top 50 Mom tips include resting when the baby rests, being able to ask for help when needed, taking time for personal hygiene daily, stocking up on batteries, being prepared to have a lot of patience, taking advice from others with a grain of salt, and trusting ones own instinct. Only perfect parents are people without children.
Practical tips that help keep the household run smoothly include protecting the couch from sickness with a vinyl table cloth, using page protectors and dry erase markers to reuse worksheets, and cutting a sticker in half and putting it inside the pair of shoes to help kids put on their shoes on the right foot.
Other clever ideas are using Chloraseptic sore throat spray to get the sting out of an ant bite, using rubber bands to tell drinking cups apart, using cookies as a lids for milk cups, using silica packs to keep pumpkins from rotting, and keeping raisins nice and plump with a marshmallow.
For a complete set of instructions and additional clever tips, check out Kids Activities Blog. Come get inspired to help run the household a bit smoother.
About Kids Activities Blog
Kids Activities Blog is a website created by two moms (who collectively have 9 children), Rachel Miller and Holly Homer from June Cleaver Nirvana. It is their daily goal to inspire parents and teachers to play with kids. This interactive website publishes simple things to do with kids twice a day. Kids Activities Blog is a great tool for moms and teachers to find kid-friendly activities that create memories and sneak learning into the fun.