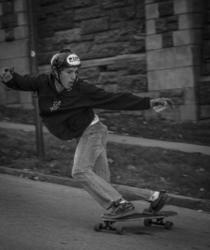 The FB Gun packs so many features into one deck, and is a great choice for any progressive longboarder.
(PRWEB) February 02, 2013
At Faceplant Boardriders, a lot of their shapes are greatly inspired by surfing, which is only natural because longboarding was inspired by surfing. FB has created the Surfer Series since the inception of their company. The shapes in the Surfer Series are meant to make a rider feel like they are literally surfing the asphalt. FB Owner/Rider Rob Wheeler said, "We felt like the only thing missing from the Surfer Series was our 'Big Wave Board', so we designed the 'Gun', a long boarders 'big wave surfboards for land'."
The Gun was greatly inspired by big wave surfing. Surfers that paddle into big waves use boards in their quiver called "Guns". With this in mind Ricky and Rob Wheeler created a shape for the progressive downhill freerider that loves to drop hills and throw down surf style slides. The Gun has a stiff standing platform with concave throughout the entire deck. This longboard has multiple wheelbases to choose from so the rider can adjust for any terrain. The shape is slightly rockered and the wedged nose helps create a natural pocket for the riders front foot to stay glued to. It also has wheel sand-outs so wheelbite is not an issue. The double sandout towards the tail of the board gives this board a unique and beautiful look.
This longboard deck has a sleek, beautiful shape that anyone can appreciate. The multiple wheelbases make the Gun into one of Faceplant Boardriders' most versatile downhill freeride boards. The 29" wheelbase gives the rider use of the mellow kicktail for easy pumping in flats and surf style slides, while remaining very stable for downhill freeriding. The 31.5" wheelbase gives the rider an even more stable ride at high speeds and leaves minimal tail so the rider doesn't have to worry about getting clipped when in tight racing situations.
FB Rider/Owner Rob Wheeler said, "Bombing hills on this board feels like I'm dropping in on a monster wave like Wilderness or Tres Palmas in Puerto Rico!" The FB Gun packs so many features into one deck, and is a great choice for any progressive longboarder.
The Gun starts at $135, and the price goes up with custom orders.
Specs:
Length - 38.5"
Width - 9.75"
Wheelbase – ranging from 29" to 31.5"
Thickness/Plies - ½", 11 plies w/ fiberglass sandwich construction
Flex Rating (1=stiff – 10=flexible): 2