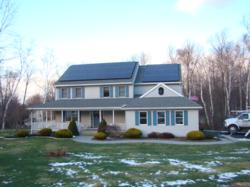 Pequannock, NJ (PRWEB) February 20, 2013
Ross Solar Group, a seven-year old PV Solar Contracting Firm based in Brookfield, CT, announces a strategic business partnership with K&S Energy Solutions, LLC, in Pequannock, NJ, in order to expand and advance marketing and sales efforts in the Garden State. The New Jersey Solar market both in residential and commercial markets provides a long-range business opportunity for both companies. By arranging this business relationship with K&S Energy Solutions, LLC, a division of K&S Construction Group LLC, Ross Solar Group opens the door to make greater inroads into the virtually untapped northern New Jersey residential solar market.
K&S Construction Group LLC, specializing in high end residential and commercial construction projects, provides consulting and construction management services for a variety of clients. K&S Construction Group has launched this new division, K&S Energy Solutions, LLC which will tap into the 10MW portfolio of Ross Solar's residential and commercial PV solar installations in the greater NYC area.
By leveraging expertise of Ross Solar Group's PV solar installation and engineering prowess in the greater NYC market, K&S Energy Solutions will use valued business relationships to offer a full Energy solution to their existing client base. Josh Ross, Principal at Ross Solar Group said, "this business arrangement provides both parties a new set of business opportunities that are now available by presenting a more complete solution to building owners that must face the reality of rising energy costs but also realize the limits associated by a lack of roof space needed to fully employ a solar electric solution to meet the demand of tomorrow's energy challenges."
This strategic partnership will allow both business diversify their business enterprises into new areas and enable Ross Solar Group capture more residential and commercial solar business in the expanding PV solar market in NJ.
Contact Information:
Ross Solar Group
Attn: Joshua Ross
Phone: 203.512.4500