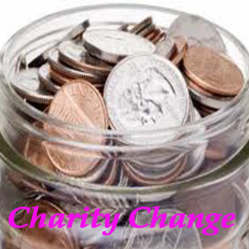 When online shoppers visits an eRetailer's website, Charity Change App offers them the option to instantly donate money to a cause that matters.
Columbus, Ohio (PRWEB) February 05, 2013
Charity Change App created by Charles E. Campbell of Cuptoopia.com, Inc. and launched in 2012, can help any organization raise online donations. Cookies and Candy being sold by school children for fundraisers should not be the only method to raise donations to support schools! Charity Change App is an essential fundraising tool to collect online donations from customers shopping on any eRetailer's website.
The cost of the Charity Change App is $20 per month with a 50% discount for the first month. This technology turns an organization's logo into a clickable link that collects donations.
Once an organization has the Charity Change App, they should contact eRetailers to ask for their sponsorship. With Charity Change App, Online eRetail Companies are not asked for money, but their support. When they agree, they place the organization's clickable logo on their website's checkout or home page, allowing their customers to donate any amount. When shoppers and the organization's supporters visit the eRetailer's website, they can donate any amount, which gets deposited directly into the organization's Paypal.com Account.. donate money online It's that simple!
The world and the US are in a global recession, while many non-profits, colleges, school districts, foundations and charities are facing drastic cuts to their programs and services, due to decreasing donations. This affects cancer research, education and community services to students, patients, clients and customers. Severe reduction is charitable giving to organizations has a significant impacted the people they serve. As a result, there has been significant increase in both global and US Poverty. The Charity Change App can make a difference by providing an innovative tool to collect online donations from multiple eRetailers.
How organizations respond during these tough economic times is a testament to their ingenuity, creativity and compassion. Charity Change App offers nonprofit organizations or any institution seeking donations an innovative technology to increase their online donations. Online shoppers are generous and want to support many causes, if these causes can be brought to their attention. Ask a non-profit, school district, foundation, church or university, if they could benefit from donations raise with Charity Change App. Watch our video to learn more!
This fundraising innovative tool is new and many of the top eRetailers are still available to contact for their support. Visit http://www.CharityChangeApp.com to learn more.