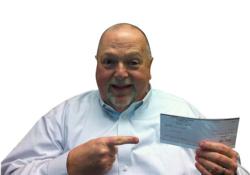 I never win anything!
Groesbeck, TX (PRWEB) February 04, 2013
Since 2009, ILSA has sponsored the $5000 Referral Sweepstakes and it is awarded annually. Each time a referral becomes a new ILSA client, the referring individual's name is automatically entered into the sweepstakes. There is no limit to the number of entries an individual may have. At the end of the sweepstakes period – about mid-January - a winner is randomly selected and a check is issued by ILSA.
On January 15, 2013, the name of Dennis Burden was selected as the winner of the 2012 $5000 Referral Sweepstakes and a check in the amount of $5000 was sent to him.
Dennis Burden, is a Vice President and Director of Surplus Lines Tax for a large insurance firm in Kansas City, KS. Dennis's first reaction upon hearing that he had won: "You're kidding … this is a joke, right?" Dennis said he wasn't sure at the moment what he planned to do with his winnings. When ILSA's CEO, Arleen Taveras, called to personally congratulate him, Dennis told her that he hadn't given the sweepstakes another thought, saying, "… I never win anything!"
The $5000 Referral Sweepstakes Official Rules are drafted and maintained by Compliance Sweepstakes Services, LLC, in Stonington, CT.
The sweepstakes was the brainchild of ILSA's CEO, Arleen Taveras, and COO, Ted Taveras. The first $5000 Referral Sweepstakes, beginning in 2009, was so popular that they have since made it an annual event. ILSA's current $5000 Referral Sweepstakes started on January 1, 2013 and will end on December 31, 2013. To learn more about ILSA's annual $5000 Referral Sweepstakes, visit http://www.win5k.ilsainc.com or call (254) 729-8002.
About ILSA:
Insurance Licensing Services of America, Inc. is a full service insurance licensing and compliance service provider offering services such as: licensing, license renewals, CE tracking, surplus lines reporting & tax filings, and a whole list of other services beneficial to the insurance and financial industries nationwide. ILSA was founded in 1997 by Ted & Arleen Taveras who saw a clear need for a centralized licensing and compliance solution for agents and agencies struggling to navigate the often complex regulatory environment. Videos about ILSA's many services are available on their corporate website: http://www.ilsainc.com