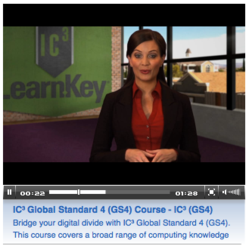 LearnKey's ability to deliver quality video-based eLearning courses is a critical value to our joint customers.
St. George, UT (PRWEB) February 01, 2013
LearnKey Inc, announced the release of its self-paced eLearning IC³ GS4 Certification Course. This user-friendly video training course, designed to teach computer and Internet fundamentals, addresses the newest concepts in:

Hardware, software and operating systems;
Key applications used in home and business;
Living online, digital literacy and social media; and
critical thinking in applying computing fundamentals.
"This course is really gaining popularity in middle schools, underscoring how important it is to understand computers and technology at a young age," says Jeff Coruccini, CEO of LearnKey. "This year, we have added more project-based learning practices to help reinforce what students are leaning. The IC3 GS4 course Project Manual and Student Workbook are aligned to the training and objectives for the exam."
The course also acclimates learners to Microsoft Office 2010 and Windows 7, preparing students to pass the IC³ GS4 exam. The IC3 is a global certification program that is designed to certify an individual's digital literacy skills associated with basic computer and Internet use. IC3 is the first computer certification to be recognized by the National Skill Standards Board (NSSB). In today's competitive job market, globally recognized certifications can be an edge when building career readiness experience, which is why LearnKey produces courses designed to help students and learners attain these valuable certifications.
"LearnKey's ability to deliver quality video-based eLearning courses is a critical value to our joint customers," says Aaron Osmond, Vice President North American Sales for Certiport, a leading Global Certification company and strategic partner to LearnKey. "They do a great job covering objectives and provide solid project based learning tools," says Osmond.
The IC3 Global Standard 4 course is available online for $160. To find out more, visit http://www.learnkey.com/ic3gs4 or call toll-free, 1-800-865-0165. LearnKey regularly releases new self paced eLearning courses.
ABOUT LEARNKEY, INC.
LearnKey is self-paced video courseware for corporate, education, government and personal users. Established in 1987, LearnKey offers decades of experience with engaging, interactive, and flexible training that is accessible anytime, anywhere.